Outdoor Lighting for Pedestrian Safety and Enjoyment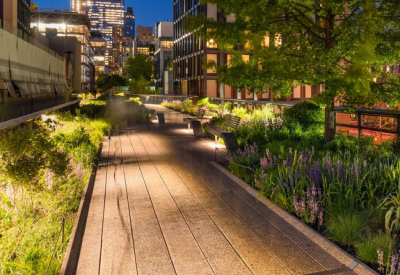 Jan 12, 2021
By Ian R. Smith, Magic Lite VP Business Development
Lighting plays a major role in creating thoughtfully designed outdoor spaces. Recently Metropolis Magazine hosted a webinar on the topic, which they kicked off by asking: How can we light outdoor spaces strategically and responsibly to support and nurture good health – especially in the wake of COVID-19?
We thought that was a great question and wanted to share some key takeaways from the presentation as well as our 'Magic Lite take' on them:
1. Prioritizing pedestrians
Most pedestrian spaces are not lit with walkers in mind. In fact, even sidewalks are lit for cars more than they are pedestrians. But, as roads and other urban areas are converted into pedestrian-focused spaces, there's a real opportunity to leverage lighting to both 'light the way' – and make the journey pleasant for those on foot.
In our opinion, achieving this is all about creating uniform illumination – and avoiding the 'high highs' and 'low lows' created by less subtle options (ie: floodlights). LEDs offer more tailored and controllable solutions via selection of optics and dimming.
2. Modifying open spaces in the age of social distancing
Thanks to COVID-19, all kinds of outdoor public spaces are being redesigned to discourage large gatherings and encourage social distancing.
Lighting absolutely has a role to play in this transformation. In our view, it's less about creating a ton of functional light and more about delineating spaces – like benches or separate seating areas – in settings like parks, waterfronts and public squares.
3. Considering circadian rhythms
Circadian rhythms are a hot topic right now, which we plan on covering in more detail in a future article. But for the purposes of this conversation, if we're thinking about ways to make outdoor spaces more pleasant and inviting for people, the last thing we want to do is flood them with unnaturally blue lights in the evening.
In addition to being downright unpleasant, it can have a negative effect on people's circadian rhythms and therefore their sleep. A warmer colour temperature is definitely the way to go for evening illumination. (If you'd like to read more about circadian rhythms as it relates to lighting, the Light Research Centre – Rensselaer Polytechnic Institute is an excellent resource.)