Keystone XFIT Linear High Bay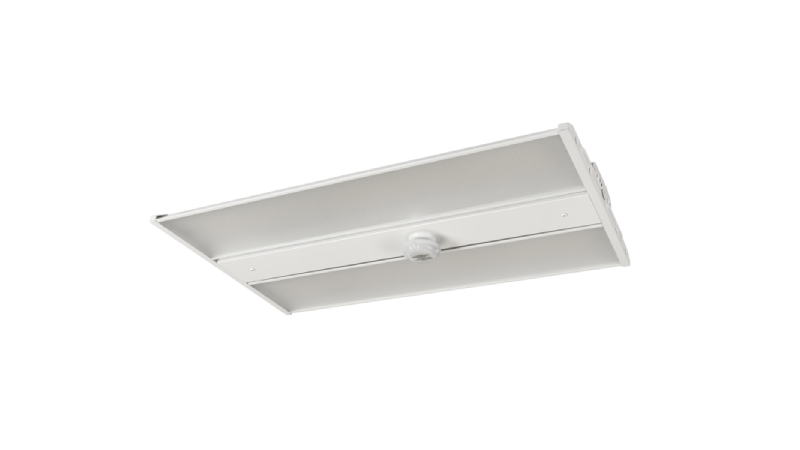 November 1, 2022
Dependable performance for expansive spaces
Keystone's XFit High Bay LED fixtures are renowned for energy efficiency, light uniformity, and long life. They're ideal for replacing HID and linear fluorescent high bay lights, ensuring comfortable and safe conditions to maximize productivity in applications including commercial and manufacturing facilities, gymnasiums, warehouse lighting fixtures, and retail aisles.
Keystone XFit Linear High Bays feature an architectural grade I-Beam design in which the driver channel is spaced away from the LEDs, allowing for better airflow and thermal management. This unique design contributes to a significantly longer lifespan and increased efficiency.
All of their Linear LED high bay lights are DLC Premium listed and eligible for rebates.
Easy installation, dependable operation
The XFit Linear High Bay fixtures are simple and fast to install. The primary mounting method mimics that of legacy HID downlight style high bay fixtures, making them ideal for retrofits or new installations. Pendant mount kits and surface mount kits provide flexibility in mounting options for these fixtures.
Power and Color Selectable – Versatile Solutions
The XFit High Bay is now available with Keystone's innovative Power Select and Color Select technologies. Power Select allows end-users to select among three field-adjustable lumen outputs – 135W, 175W, and 215W; Color Select provides two color temperature selections, 4000K and 5000K. Both are changed with a simple switch. These flexible tools provide significant SKU reduction and increase flexibility and convenience when installing in the field.
The latest generation of Keystone High Bays is also compatible with Keystone's new Smart Port sensor hardware, which uses a simple, screw-in 3-pin plug to add Keystone controls.
Dedicated Options
Keystone XFit Linear High Bays are also available in new dedicated versions with specific wattages and color temperatures. These high bays offer:
High efficacy
Lower wattage with similar lumen output, meaning more energy savings
Compatibility with Keystone Smart Port screw-in sensors
Smaller and more compact designs, saving space on shelves and lifts—and making them easier to install
All Keystone XFit Linear High Bays include:
V-hook and chain mounting kit
Reliable Keystone 0-10V driver
A frosted lens that eliminates glare
Suggested mounting heights are up to 35'
Product Features
Powered by Keystone 0-10V dimming LED driver
Smooth diffused lens for an even appearance
Compatible with Keystone SmartSafe emergency LED drivers
Compatible with Keystone 480-277V step down transformers
Ambient operating temperature: −40ºC/−40ºF to 50ºC/122ºF
*on select models
UL Listed 1598: Suitable for damp locations
THD: < 20%
Power factor > 0.95
LED Lifetime L70 rating of >100,000 hours
DLC Premium Listed *on select models
Architectural grade compact design
Go HERE for more information