Atrius® Sustainability Named Top Product of 2023 by Environment + Energy Leader
July 13, 2023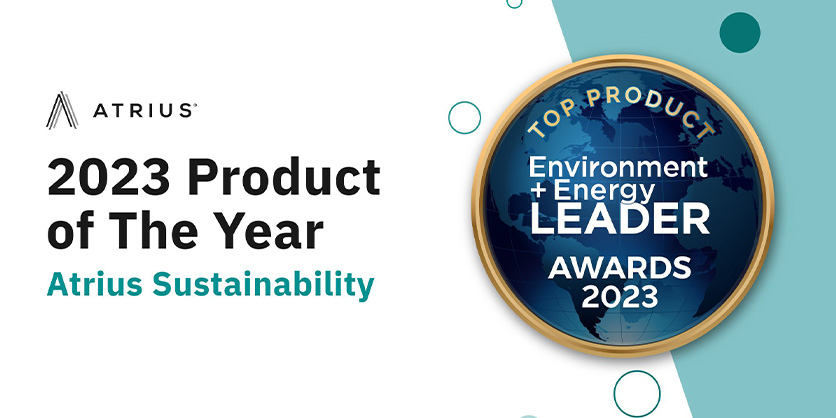 by Neil Egan
Atrius, part of Acuity Brands, Inc, recently announced that Environment + Energy Leader awarded Top Product 2023 status to Atrius Sustainability, its carbon accounting and Environmental, Social and Governance (ESG) reporting software. The company supports sustainability managers to better understand resource consumption across a portfolio with the tools to quickly measure, track, and report on sustainability progress. 
Award Presentation: E+E Solutions Summit 2023
The award will be officially unveiled at the upcoming E+E Solutions Summit '23, on July 18-19. Acuity leaders Lauren Scott and Chelsea Davis are presenting at the E+E Solutions Summit, discussing the important role small- to mid-sized businesses (SMBs) play in fighting climate change.
The E+E Solutions Summit '23 is a virtual event, exclusively focusing on commercial and industrial end-users seeking to improve their sustainable transitions and strategies. Speakers and keynotes from experts in the energy and sustainability fields from leading brands and organizations, including Atrius, will offer concrete solutions and expert advice to organizations on any step of the sustainability journey. To register, visit Environmentalleader.com/summit/
More Recognition for Atrius
The Environmental + Energy Leader recognition follows other industry accolades for Atrius, including two awards from Juniper Research recently: the 2023 Platinum Award for Carbon Reduction Innovation of the Year and Gold Award for Most Innovative Urban Sustainability Project. Jupiter Research is a global analyst firm specializing in appraising new high growth market sectors within the digital ecosystem.
In addition, ESG Investing named Atrius as finalist in two categories for 2023: Best Specialist ESG Data Provider and Best ESG Data Science Software. ESG Investing is the leading global media platform publishing news and features on ESG and sustainable investing for fund managers, institutional investors and listed companies.
More information available here
Related Article
Atrius launched DataLab, its most comprehensive building automation platform product to date, to transform and unify operations across a built space. The platform enables applications to quickly automate and centralize control of built spaces at scale.