Eureka Expands Arena Luminaire Family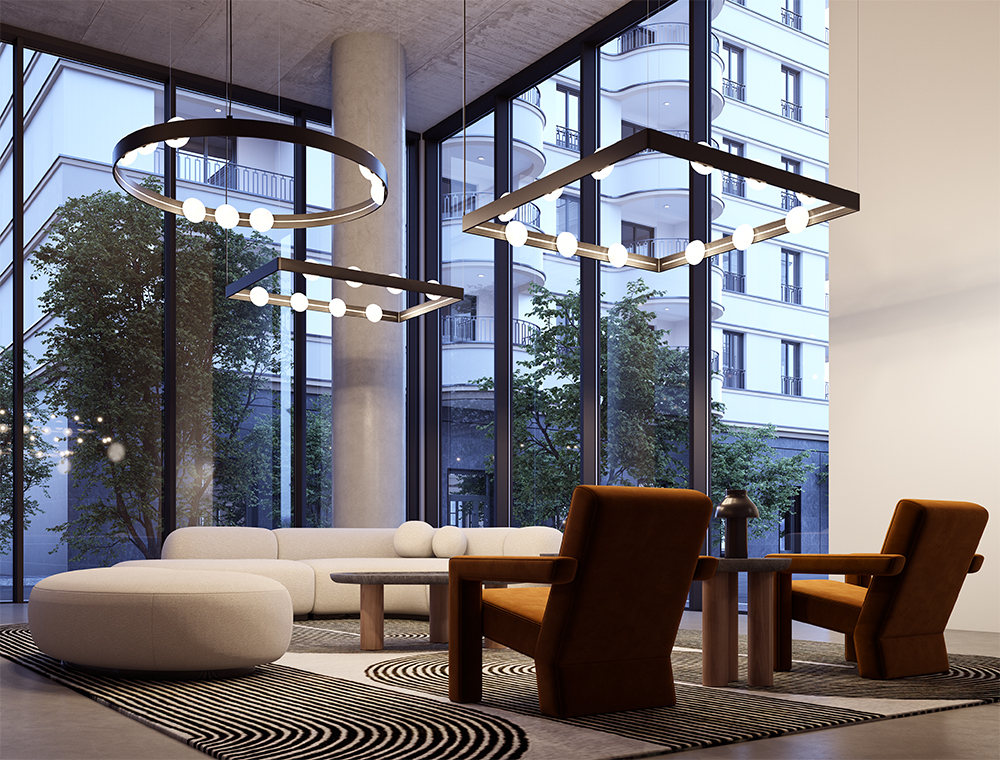 September 28, 2022
Eureka has announced several enhancements to its Arena luminaire family.
Arena luminaires were initially introduced as circular pendants that combine a classic form with the ability to reconfigure light sources by attaching them magnetically. Arena's innovative magnetic ring enables users to snap on or snap off light sources at will. Each light source is equipped with strong neodymium magnets that form a safe, low voltage connection to the Arena ring.
Enhancements now include two new shapes, Straight and Square. Arena Straight has a power strip on each side of the fixture, allowing light source connections on either side. Aircraft cable is doubled-up at each end to prevent an unbalanced fixture. Scaling from 36" to 96" in length, multiple lengths of Arena Straight may be combined to create extended lengths up to 190". Arena Square is available in 36"x36", 54"x54", and 96"x96", with rectangular iterations of 36"x54", 36"x96", and 54"x96". Designers can use the clean, geometric shapes of Straight or Square to create playful statements in a space.
Launched initially with four light source options (Aim, Beam, Glow, and Slice-Round), three additional light sources are now available: Cone, Ball, and Slice-Square.
Cone adds a sleek aesthetic. The geometric fixture can provide targeted points of light, or several can be clustered together to create a unique lighting effect. Cone features a COB light source with a 30° projection angle and delivers up to 923 lumens per unit. Ball is a decorative light source with a double wall diffuser for even light diffusion. It can be mounted as a series of spherical shapes or doubled up on Arena Straight for a full globe effect. Ball delivers up to 678 lumens per unit. Finally, Slice-Square is a decorative light source with sharp lines. Users can flip each rectilinear fixture for direct or indirect ambient illumination. The 36" Slice-Square delivers up to 1,156 lumens per unit; the 54" strip up to 1,729 lumens.
No tools, or electricians, are required to add, remove, or arrange the light sources. Designers and users can move, separate, cluster, flip up or down, pivot, or aim each light source to meet a space's functional and aesthetic needs.
An acoustic accessory is now offered for areas where noise is a concern, including high or unfinished ceilings, open offices, or waiting areas with a hard floor finish. Acoustic panels in 36" or 54" widths are available for Arena Square; panels may also be added to Arena Straight with the addition of a gripper. Designers may choose from 30 colors to create any gradient or desired pattern.
Finally, for additional design flexibility, a range of Eureka luminaires – Mika, Bloom, Mill, Mute, Scout, and Celeste – may be mounted on any Arena structure with an adapter.
Since its introduction in 2019, Arena has received multiple awards and accolades, including Good Design®, LIT Lighting Design Award®, and inclusion in the IES Progress Report.

Go HERE for more information