Introducing Curvia from Lumenwerx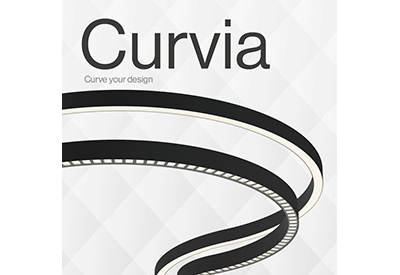 August 19, 2022
Curving design
Lumenwerx announces the launch of Curvia, a refined, state-of-the-art curved line of high-performing, meticulously crafted luminaires. Available in three mounting options (recessed, surface, pendant), four widths (1″, 2″, 3″, 4″), and four shapes (ring, capsule, square, and rectangle), the lighting family is optically equipped with either Lumenwerx's High-Efficiency Lambertian Optic (HLO) with innovative snap-in SupremeGrip™ (SG™) technology or the company's sophisticated, new Diamond-Prism Optic™ (DPO™). With all of these features and more, Curvia represents a new standard for curved lighting solutions, one that masters the technical ingenuity of rounding a corner.
Visual comfort
Curvia emits a warm glow that is high on comfort and low on glare, delivering 150 lumens/W and an excellent Unified Glare Rating (UGR) of less than 5. Suitable for a wide variety of applications, Curvia luminaires can serve to enhance other curved interior design furnishings, or they can add a soft touch to environments composed predominantly of hard-edged, linear elements.
Tactile richness
The Curvia 2 fixtures with DPO™ integrate advanced technology, enabling beam refraction and reflection with exacting precision. Artfully designed to the finest detail, the DPO™ exudes an esthetically clean and luxurious vibe with its textured pattern beckoning touch and further appreciation.
For more information on Curvia's well-rounded offering, view the Curvia brochure.
Go HERE for more information