Color Kinetics ReachElite Series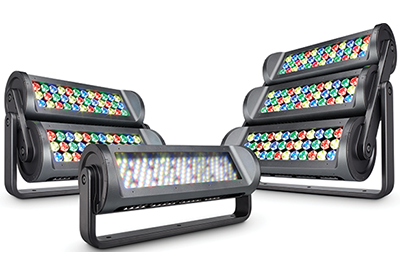 January 28, 2022
Need maximum lumens? Choose the remarkably high output of up to 87 lumens per watt provided by ReachElite High Output. Need delivered light that goes the distance? Choose ReachElite High Punch, a long-throw luminaire that can reach more than 1,000 feet. Choose 4-channel white or color-changing light options in the size you need, including 100W, 200W, and 300W options—plus a full range of accessories.
High Output
ReachElite High Output features up to 87 lumens per watt (lm/W) with more than 500 mid-power LEDs per 100W module with a native 20° native beam.
Key differentiators: Maximum lumens, high efficiency, close mixing distance.
Native beam angle: 20º.
Ideal applications: Floodlighting, wall washing.
High Punch
ReachElite High Punch features 36 high-power LEDs per 100W module with a native 2.6° native beam illuminating the tallest structures up to 564 m (1,852 ft) away with a 300W Essential White luminaire.
Key differentiators: Long throw, powerful punch, proven reliability.
Native beam angle: 2.6º
Ideal applications: Grazing, spotlighting.
Accessories
Choose from a full line of field-installed accessories, from seven different spread lenses, a louver, full and half glare shields, a rock guard, and a slipfitter mount for all ReachElite luminaires. Color Kinetics high-quality accessories make project customization simple. And these optional secondary accessories—combined with precise (and simple) aiming—let you get the look and performance necessary for any project.
Modular design
All ReachElite family luminaires are available in three versions—100 W, 200 W, and 300 W. Each luminaire contains either one, two, or three 100 W modules that can be aimed independently of each other, empowering lighting designers to use multiple applications and beam direction in a single luminaire.
Go HERE for more information