Axis Lighting SideStep Architectural Pendant Lighting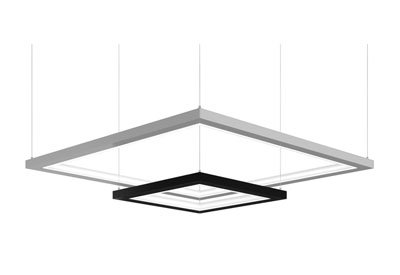 May 25, 2021
Create stunning, open-center LED luminous forms only 1.5" high. SideStep delivers an affordable, stylish architectural solution. It combines clean lines and thin, minimalist square and rectangular standalone forms to enhance the decor. The elegant negative space creates a weightless appearance.
SideStep provides a distinct balanced glow. Appealing diffuse light is spread over the entire surface area of the one-piece lens, ensuring balanced luminance and visual comfort. Axitune™ Tunable White available.
Projected lens: 1 1/2" (H) x 13/16" (W)
Extrusion: 1 1/2" (H) x 1 1/16" (W)
Total width (extrusion and lens): 2 7/8"
Choose from six narrow to wide SideStep lighting kits featuring soft, uniform direct/indirect lighting from a single light source with attractive projected lensing. Integral driver and battery pack included.
Mixing and matching SideStep
With their 1.5"-wide housing in common, the following luminaire families provide opportunities for harmonized lighting layouts.
Geometric™: Choice of non-rectangular recessed forms compatible with Armstrong® DESIGNFlex™ ceiling systems.
Sculpt™: Linear segments and runs available in pendant, recessed, recessed vertical, surface, wall and perimeter mountings.
Sculpt Kits: Choice of square and rectangular ceiling kits available in pendant, recessed, surface forms.
Sculpt SoftZone®: Acoustic linear lighting design tool for creating vertical architectural pendant concepts with sound attenuation properties.
SideStep: Minimalist square and rectangular open-center forms featuring a uniformly diffuse one-piece lens.
Go HERE for more information.