Stanpro's LED Retrofit for Fluorescent Vapour Tight Luminaires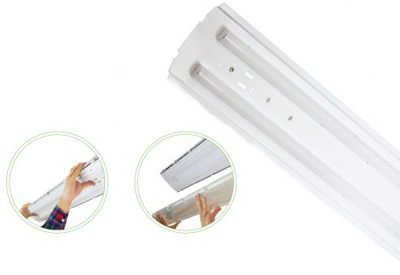 June 25, 2018
GoLED
Uprade to LED in 5 minutes
GoLED is Stanpro's most exciting new initiative in our environmentally conscious push to encourage the market to embrace the benefits of retrofitting rather than replacing lighting units.
We have decided to approach this subject as one would a set of traffic lights. Stop to consider the situation, get ready to go with retrofit, and then enjoy the many benefits along the journey, and well into the future.
GoLED – The Challenge
The term retrofit lighting, retrofit kits, and the related are highly important to anyone who is trying to upgrade their lighting system at their facility. In short, it is the process of upgrading your existing lighting fixtures with a new light source (typically of higher quality and efficiency) while maintaining the integrity of the fixture itself.
Qualifying whether you should retrofit your lighting system or not really all depends on your facilities situation. If your entire fixture is in bad condition then a new unit is probably the only option. However, when a fixture exterior housing hasn't been compromised further consideration should be given to this solution, and a cost analysis might sway your opinion to a more environmental solution… a retrofit.
Undeniably the best technology for any business is a LED retrofit for many reasons:
– Decrease in lighting energy usage by up to 75% – bottom line savings
– Increase in quality of light – no more buzzing or flickering and improves light uniformity
– Environmental benefits – less wastage, less landfill, less energy/packaging than buying new
– Longer lifespan by 2-3 times – savings in time, money and maintenance
– They perform and last the same as new fixtures – what's not to like!
LED Retrofitting is one of the biggest lighting upgrades buildings are doing these days. Companies want to get rid of technology like metal halide, HPS, and fluorescent in their facility for all of the benefits LED products bring. The benefits of LED over these other technologies are undeniably better in virtually every single aspect of quality lighting.
For more information HERE