Lutron PowPak® 20A Receptacle Control Relay Module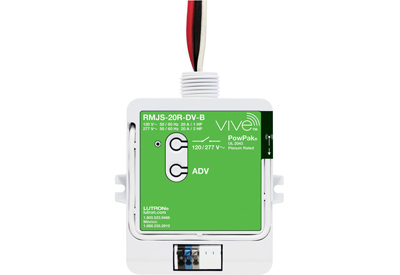 Feb 24, 2021
The PowPak 20 A Relay Receptacle Control Module is a radio-frequency (RF), receptacle switching solution that is capable of controlling 20 A receptacles based on input from Pico remote controls and Radio Powr Savr occupancy sensors.
Communication with RF input devices, such as Pico remote controls and/or Radio Powr Savr occupancy / vacancy sensors, is accomplished using Lutron Clear Connect RF Technology.
These products are also compatible with the Vive hub which enables a simple setup process using a standard web browser on any Wi-Fi enabled phone, tablet or computer. The hub also enables control and monitoring of all Vive devices. The Vive hub can be added at any time. System reprogramming will be required.
Features:
Softswitch: Lutron patented technology prevents arcing of relay contacts, extending product lifetime.
Optional low-voltage dry contact closure output provides integration to HVAC, VAV, etc.
Receives wireless inputs from up to 10 Pico remote controls, and 10 Radio Powr Savr occupancy / vacancy sensors.
RoHS Compliant
Able to control 20 A receptacles.
Capable of switching general-purpose loads.
Utilizes Lutron Clear Connect RF Technology.
Mounts to a U.S. style junction box through a standard 1/2 in (12.7 mm) size knockout.
Includes required controlled outlet labels for code compliance.