Cooper Lighting Continua SQ4 Suspended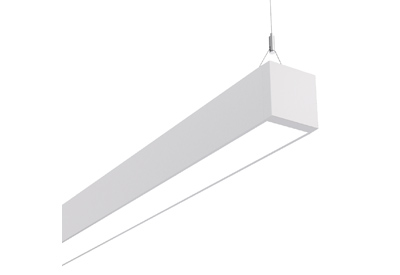 Feb 4, 2021
The Corelite Continua SQ4 suspended linear features a minimalistic square profile and seamless illumination along the entire row length. Combining the latest LED technology with precision engineered optical control, the SQ4 provides high quality illumination while maximizing spacing capabilities. A wide range of direct/indirect distributions are available to choose from as well as independent up/down circuiting for ultimate flexibility. Available in 4', 6', 8', 12', and continuous runs. The SQ4 is well suited for commercial open offices, private offices, conference rooms, corridors, and educational facilities.
• Architectural design and quality in a minimalistic square form
• Available in 4′, 6′, 8′, 12′, and Continuous runs
• Continuous line of light via single-piece luminous roll lens
• Luminous efficacy up to 135 lumens per watt
• 500 to 2,750 delivered lumens per foot
• Wide range of direct/indirect distributions
• Low peak intensity indirect distribution for 30% wider spacing
• Variable mounting locations for ultimate installation flexibility
• Integrated sensor systems – occupancy, daylight and IoT connectivity
Go HERE for more information.