Shat-R-Shield Ironclad VR Pro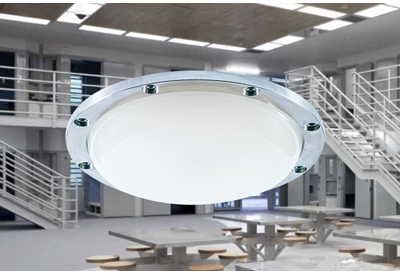 Nov 19, 2020
Shat-R-Shield's Correctional Cell Fixture is designed to withstand extreme abuse by using materials that are virtually indestructible. Built with 1/2″ thick 304 Stainless Steel and a cast .400″ thick diffused lens, this light fixture is built to withstand hard/repetitive impacts and its tight design offers no point of entry.
The Ironclad® Vandal-Resistant (VR Pro) fixture uses an LED high efficiency light engine with a cool light that simulates daylight. The incorporated count light LED module can be turned on and off. Tested to Canadian and US standards by Underwriters' Laboratories, this fixture carries a cULus rating.
Specifications:
Lumens: 4400 (42W)
Count Light Lumens: 680
Light Engine CCT: 5000K, 4000K, 3500K, 2700K
Count Light CCT: 2700K
Life Hours: L70>75,000 Hours; Projected > 100,000 Hours
Footcandles: 35ftc at the desk level; 22ftc at the floor
Voltage: Universal 120-277V
Weight: 7.9 lbs.
Warranty: 5 year limited warranty
Dimensions: 12.25″ diameter x 1.9″ tall
Go HERE for more information.