STANPRO Kolika Quick Ship Now Available in 8 FT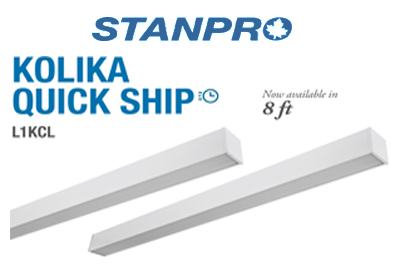 July 26, 2018
Need it right away? STANPRO's Kolika, part of the Quick Ship program is an LED suspended fixture. Offered in standard 4 ft and 8 ft lengths, the fixture is powder coated white finish and comes with an opal lens. This fixture can be used as a single fixture or can be joined to create a continuous row system providing linear illumination.
FEATURES
• Opal acrylic lens
• Extruded aluminum housing
• High reflectance polyester powder white finish
• Efficiency: 115 lm/W -117 lm/W
• 85 W, 9825 lm – 9956 lm
• Voltage: 120-277 V, 0-10 V dimming standard
For pricing inquires and/or lead time requests, please contact our customer service and quotations department.
Our electronic price files will be updated consequently.
Stock availability as of August 17th 2018.
For more information contact customer service or visit the product page HERE