Lumileds LUXEON XF-3014 CV Flexible LED Strip Provides Long Lengths of Uniform Light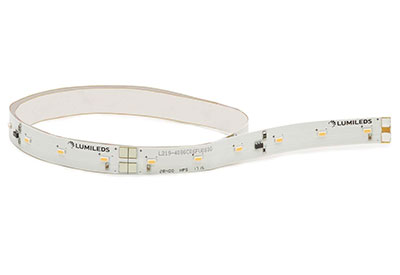 Lumileds introduced the third member of the Matrix Platform family of integrated LED products, the LUXEON XF-3014 CV flexible LED strips. These 24V constant voltage LED strips distribute extremely uniform light across user-selectable lengths and require only a simple 24V constant voltage driver. Applications such as edge-lit lights, downlights, cove lighting and accent lighting benefit from the LED strips' outstanding flux uniformity and colour uniformity. The LUXEON XF-3014 CV strips are the industry's first LED strips to achieve 2% light output attenuation over a 10 meter strip.
The LUXEON XF-3014 CV line of flexible LED strips provides 1000 lm/meter and is offered as cuttable segments or with snap-in connectors.
Specified at 2700K, 3000K, and 4000K colour temperature and a CRI of 80, the strips are offered in three configurations for design flexibility using:
• 6-LED, 96mm cuttable segments in a 19.2m continuous reel
• 30-LED, 480mm segments with connectors in a 10m reel
• 6-LED, 96mm segments with connectors in a 2m reel
Each 96mm segment produces 112 lm with 105 lm/W efficacy at 24V (3000K).
The Matrix Platform speeds time to market by offering turnkey solutions using proven, reliable LUXEON LEDs integrated with components and connectors on flexible or rigid substrates. The Lumileds Matrix Platform simplifies customer supply chains with its in-house capabilities and uses the most reliable and high quality assembly practices. The LUXEON XF-3014 CV line addresses the need for long lengths of LED flexible strips with uniform light output and simple 24V driver supportability that can be easily mounted with a pressure sensitive adhesive.
Find out more: www.lumileds.com/LUXEONXF-3014CV
>> Source ALL of your Canadian Electrical products in the Goldbook Directory <<