HyLite Expands Energy-Saving Retrofit Solutions with New Omni-Cob Models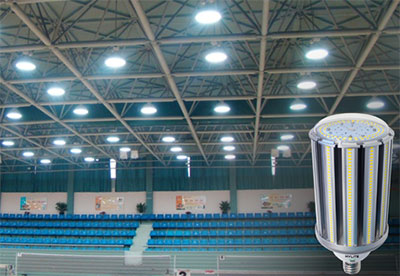 HyLite has expanded line of Omni-Cob lamps with two new models: 150W and 200W. These new high performance, high output LED retrofit lamps are retrofit solutions for applications up to 1000W HID.
The HyLite LED Omni-Cob series already offers an extensive range of retrofit solutions with lamps from 8W to 120W. This expansion will provide even more opportunities for customers to slash energy consumption and eliminate maintenance costs associated with traditional metal halide and high-pressure sodium lamps. The new Omni-Cob lamps are suitable for fully enclosed fixtures and are IP 65 for use in the widest range of applications.
The new model Omni-Cob lamps will come with a free 10kA/20kV surge protection device. This device, which is already included with all HyLite Omni-Cob lamps 22W and up, will provide additional protection to ensure reliable energy savings performance through its Rated Lamp Life of up to 60,000 hours (17 years at an on time of 10 hours/day).
With up to 140 lumens per watt, the new HyLite LED Omni-Cob models will provide new retrofit solutions for parking lots and area lighting, flood lighting, and high bays. HyLite LED Omni-Cob lamps allow users to bypass unreliable HID ballasts for additional energy savings and eliminate potential points of failure in the system. The 150W and 200W models are available in 120-277V, 347-480V, and DC Voltage options.
Find out more: http://www.hyliteledlighting.com/omni-cob-lamps.html
>> Source ALL of your Canadian Electrical products in the Goldbook Directory <<