Integrative Lighting: Connecting Lighting to Communication, Wellness and Education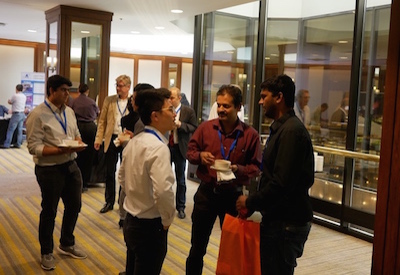 June 26, 2018
For the first time in the history of artificial lighting, a single technology, LEDs, can fulfil the demands for almost all lighting applications — indoor, outdoor, roadway, and signage. During the early days of LEDs, we grappled with questions of technology, viability, market adoption, energy efficiency, and sustainability. Since that time, LED technology has matured and is being integrated across numerous systems and applications.
On June 1 and 2, the University of Toronto Impact Centre's Smart Sustainable Lighting Network (SSLNet) hosted the Integrative Lighting Conference in downtown Toronto. From May 28 to 31, the Impact Centre also played host to the joint Technical Committee TC-274 of the International Organization for Standardization (ISO) and International Commission on Illumination (CIE). Several experts attending the invitation-only technical committee also joined the open-audience SSLNet Conference.
The first day included two thematic workshops on safety and performance testing of LED lighting products with speakers from DesignLights Consortium (DLC), Underwriter Laboratories (UL), and Lumentra Inc., as well as a workshop on Lighting for the Aging and Partially Sighted with speakers from Canada, the U.K., and Sweden. The second day included talks by academics and industry representatives who are leading research projects to better understand the impact of light and integrate these impacts into systems that improve our quality of life.
Technology trends
Dr. Venkat Venkataramanan from the University of Toronto gave an overview of the technology and industry trends in LED, highlighting three major areas: visible light communication, horticultural lightings, and healthful lighting. Designers and end-users traditionally focused on the application requirements, efficacy and cost. Venkataramanan emphasized the broadening demands to consider lighting quality (CCT, glare, and flicker), non-visual effects that influence the human circadian rhythm, connectivity and interoperability with other smart building and city-wide devices and operations, as well as privacy, data, and device security issues.
Peter Dehoff of Zumtobel provided an overview of the industry consortia and recent industry trends in Europe on human-centric lighting. He also elaborated on the lighting criteria in the review of the standard EN 12464-1 lighting of workplaces.
Health + light
Beyond vision, light induces numerous changes in our biology. Dr. Peter Blattner from the Swiss Federal Institute of Metrology reviewed some of these non-visual effects of lighting. They include skin-mediated responses, such as vitamin D production or solar dermatitis, and stimulation of ocular photoreceptors, which can synchronize the biological clock, improve alertness, or alleviate seasonal depression.
In addition to the positive impact of LED light, much has been made about the possible negative impact of LED light exposure. Professor John O'Hagan from Public Health England shared his experience of filtering perception on this issue from reality. "Once people believe in something, it's very difficult to change their perception," said Prof. O'Hagan on the perception that LED lighting is detrimental to your health. However, he has seen no conclusive research showing any negative health impacts from LED lighting.
Dr. Jennifer Veitch of Canada's National Research Council presented emerging knowledge on the effects of the intensity, duration, spectrum, timing, and pattern of light exposure on daily physiological and behavioural patterns. She posed a question on the need for new recommendations advocating for advanced technologies everywhere, and highlighted the need for additional knowledge in making such strong recommendations.
Education + light
Classroom lighting is one of the most important environmental factors that can affect students' visual and non-visual performance, such as learning performance, vision development and circadian regulation. Prof. Tongsheng Mou from Zhejiang University has used a typical Chinese school classroom design to evaluate the impact of lighting quality on students. He presented onsite measurements of the classroom lighting under six different lighting schemes, including during multimedia use, in-class usage and evening self-study and evaluated the visual and non-visual effects as well as photobiological effects of each lighting environment.
Data + light
The Internet of Things (IoT) has seen an explosive growth in the last few years. By the year 2020 there will be 50 billion interconnected, smart objects. Building automated systems are at the forefront of this explosive growth. Cisco Canada's William MacGowan shared the company's approach to smart + connected workspaces used in its own new Canadian headquarters building in Toronto.
All these developments empower lighting designers to shape light in new ways, control light using an expanded number of inputs, and use LEDs to transform our lit environment. Paul Boken of Mulvey and Banani Lighting discussed some of their most interesting uses of LEDs and what they see on the horizon. He drew particular examples of relighting Niagara Falls, and lighting the Blood Viaduct. Boken also presented their new concepts that draw extensively on data and image analysis. They open up new horizons in dynamic user-specific lighting even in public spaces that encompass no only efficiency and aesthetics but also can show empathy.
About the SSLNet
The Smart Sustainable Lighting Network (SSLNet) at the University of Toronto's Impact Centre is Canada's largest and most active lighting network working on applications of next-generation lighting technology. The network brings together researchers, industries, end‐users and agencies, and fosters constant dialogues, knowledge sharing and facilitate collaborative projects. Find out more: www.sslnet.ca/.
---
Scott McAuley is the Communications Coordinator for the Impact Centre at the University of Toronto.