A Qualitative Policy of Urban Lighting in the Master Plan: Light as Celebration and Commemoration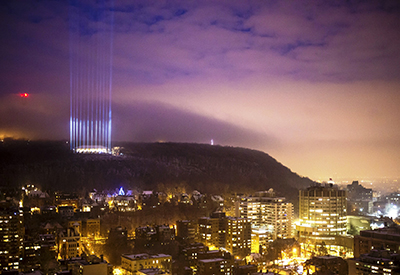 Dec 8 2015
Gilles Arpin

The winter solstice has been an occasion for celebration in many civilizations since antiquity. This astronomical phenomenon derives its importance from its place in the seasonal solar cycle. Originally a celebration of light for agrarian societies, it was subsequently exploited by religions and stained by cultural considerations. Today despite a few religious reminiscences the event has become an end of year celebration for Homo festivus or a festive reaction to winter depression. Although the phenomenon is universal, we have to acknowledge that this festive singularity belongs primarily to Indo-European societies in temperate regions, including ours.
So, as the holidays approach we throw ourselves into Christmas lighting, which thanks to accessible and inexpensive new technologies are now deployed in even the smallest and most remote communities. Both municipalities and their residents have taken up the call, competing in quality of course but also too often in quantity.
With the seasonal return to standard time, we are already more aware of urban illuminations that enliven and entertain the course of our daily activities. With colour more and more a part of these illuminations, in which the lighting vocabulary creates an illusion of celebrating all year long, components that glow with a thousand lights invite us to enter into the spirit of the season.
Photo credits: www.MomentFactory.com

This period gives free rein to all kinds of personal and professional expression. Many are very elegant and restrained, a number are inspiring, but others are a mess of Wal-Martian odds and ends. However I keep my opinions to myself because the party belongs to everyone. We only hope that the winter depression pushing the most affected among us into this orgy of light ends early in January, and that the legacy of their emotional state is not imposed on us until spring.
The defining characteristic of the celebration is its duration. That is, the brevity.
Every year on December 6, we commemorate the tragic 1989 École Polytechnique shooting. This year the commemoration physically entered public space through the deployment of 14 beams of light into the nighttime sky. The beams represent the interrupted existence of the 14 female engineering students. Using light to symbolize lives that are gone forces recognition. It had been suggested that the installation become permanent, but for me this would trivialize the event. People would gradually forget its purpose, the installation would lose real meaning, and become lost in the urban landscape.
The defining characteristic of the commemoration is its uniqueness as an act of memory simultaneously brilliant and powerful.
---
More in LDS from Gilles Arpin:
– Gilles Arpin, Lighting Designer: Revealing the Nature of Buildings
– Public Lighting and the International Year of Light
– A Qualitative Policy of Urban Lighting in the Master Plan: Roadway Lighting — Tonality, Public Health and Light Pollution
– A Qualitative Policy of Urban Lighting in the Master Plan: Light Levels for Roadway Lighting
– A Qualitative Policy of Urban Lighting in the Master Plan: Defining Visual Comfort in Street Lighting
– A Qualitative Policy of Urban Lighting in the Master Plan- Understanding Urban Context when Developing a Lighting Plan
Gilles Arpin is a lighting designer. He has 30 years of experience as a technician, lighting designer, technical director, production manager and producer for various ballet, opera and musical productions. Since 1996 he has been interested in the lighting of public places and residential and commercial spaces, and founded the firm Éclairage Public. Several of his projects have won awards and recognition.
View a project portfolio at http://www.eclairagepublic.ca/index.php/en/
Professional associations include the Illuminating Engineering Society (IESNA) section Montreal, IALD International Association of Lighting Designers, and IDA International Dark Sky Association.