Strong Business Practices Critical to CBC Lighting's Success in an Evolving Industry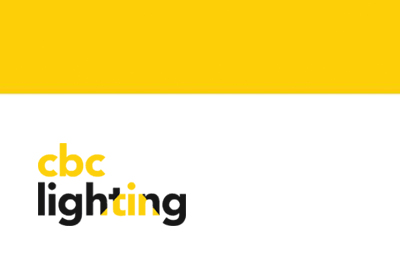 February 8, 2022
Originally printed in Today's Lighting Distributor; a publication of the National Association of Innovative Lighting Distributors. Learn more at NAILD.org
The mission of CBC Lighting is to enable Lighting and Electrical Distributors to achieve and surpass their goals by being committed to sourcing the products they need, when they need it. Boasting a loyal and satisfied customer base in both the U.S. and Canada, CBC Lighting has established itself as a service-oriented and creative partner that never fails to deliver.
CBC Lighting has 95 years of combined experience supplying electrical and lighting distributors, and leverages that expertise to source and deliver products quickly, easily, and cost-effectively. Whether customers are looking for a hard-to-find lamp or ballast, or they want to make a large-scale lighting purchase, CBC Lighting utilizes its extensive buying power as one of the world's leading international lighting wholesalers, to deliver the best possible solution.
Although The lighting industry is continuously evolving, we've maintained principles that kept us in operation during transformative periods as the world shifts around us daily.
In its infancy, CBC Lighting simply shipped cases of lamps and ballasts — the customer called for a product code and that was the product code that was shipped. Now, many years later, the process is not so simple.
"We are small enough to make sure we don't skip any detail of your order instructions and big enough to get you the items and prices some of the competition are not capable of coming close to," says President, Abraham Schnitzler.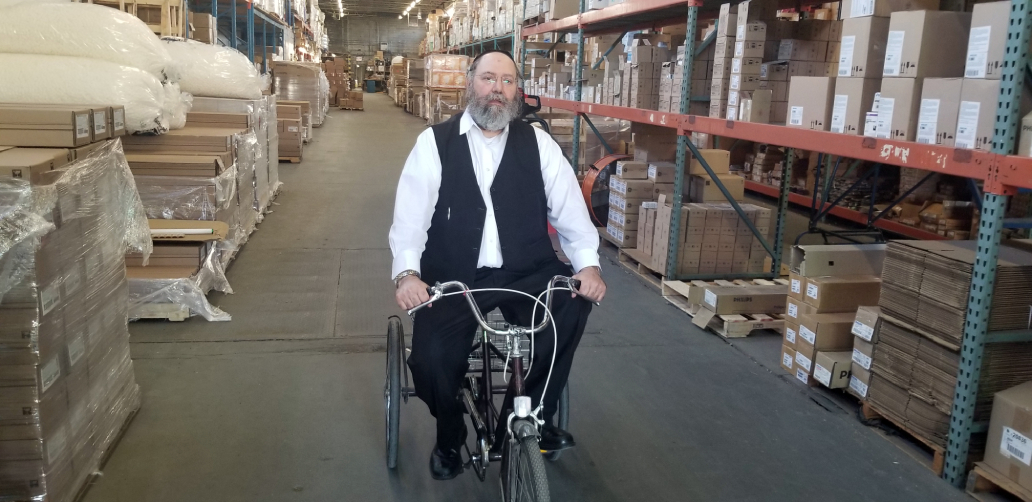 Image: Abraham can be seen here riding a bike through the vast warehouse. When needed, Abraham will hop on the bike, quickly riding through the warehouse to check on an item for a customer in a hurry, providing unparalleled customer care on a set of wheels.
Today, a replacement order is a hunt through old catalogues, multiple phone calls to the manufacturers and lighting experts, and frantic internet searches for the just right (or even, just good enough) equivalent to get the order through.
Many other businesses would falter under this pressure, but good business principles are good business principles, no matter the decade.
Here are the lessons that have guided CBC Lighting since the beginning and will continue to steer them into the future:
Customer Needs Come First
Make YOUR customer look good in THEIR customers eyes. CBC Lighting does this by solving lighting problems of all shapes and sizes. Reputation is everything.
Ship it Fast
This past year made finding innovative and effective ways of moving products fast non-negotiable. Once again, we prioritize customer needs, leverage our network and get product where it needs to be.
Image: CBC Lighting Purchasing & Quotations Coordinater
P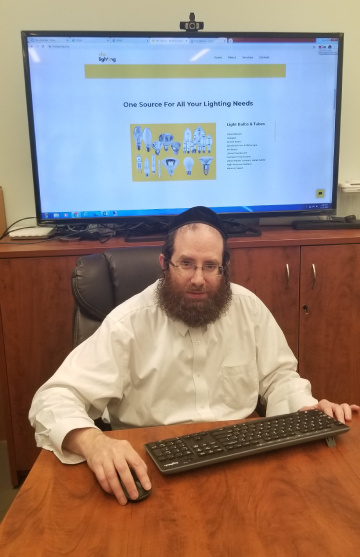 rice it Right
Money talks — Get started on the right foot, right from the beginning. Price products at a rate no one can find unreasonable. CBC is fortunate to have grown to a size that can negotiate bulk rates, but even as a boutique-sized business, attractive pricing is always a priority.
Have Everything, Have Enough of It, now Where to Get More
While it is not impossible that CBC Lighting repeat customers come back for the team's sparkling personalities, more likely it is because they are committed to keeping products on the shelves or at arm's reach through a trusted network of vendors.
You can't sell something you don't have. The more items on-hand provides more opportunity to sell. CBC Lighting keeps thousands of SKUs spread across many manufacturers on hand in their sprawling warehouse or has access to them on speed dial. The highly-skilled and dedicated team at CBC will dive deep, playing detective for discontinued items, and enjoying the challenge of finding the difficult items and the satisfaction of delivering them. (They even have a few cases of legacy lamps in the back corner just waiting for the right time.)
No Store Policies, just Savvy Practices
The leadership at CBC Lighting trusts its team to make decisions for each sale according to what best benefits the customer without written policies directing procedure. Doing what makes sense for each sale that comes across the CBC desk allows the team to strategize, care for, and consider each customer, never saying no to a good idea no matter how off-the-wall it might be.
The main rule is to always do what makes sense or what is necessary to do business the best way we can.
The strong business practices that guide their success as a company have garnered them respect as a wholesaler's wholesaler:
"As legacy lamps have become harder and harder to find, we have turned to CBC Lighting and found that Abe and his team's pricing and service is excellent. CBC is a good company for any serious lighting distributor to have a relationship with."
Joe Carnovale – Atlas Lighting and Sales Limited. Toronto, Ontario.

"We developed a great relationship with CBC Lighting inc.as a trusted source to supply us with Lamps, Ballasts and Drivers etc. for years their commitment to supplying us with major brands like Osram, GE, Philips and Sylvania as well as others especially on our industrial account customers is evident including odd Voltages or Wattages. Whether they have the stock or they need to procure it for us, they get it in a timely manner.
We appreciate their efficiency."
Daniel Boily – Franklin Empire. Chicoutimi Quebec.
"Since our inception, we are sourcing lamps, ballasts etc. from CBC Lighting and we are still amazed at their ability to find and supply us with what we need quickly and easily. It is a real pleasure dealing with them."
Shlomo Oren – Mercor Lighting. Ville St-Laurent, Québec.