From Past to Present: The Evolution of Emergency Lighting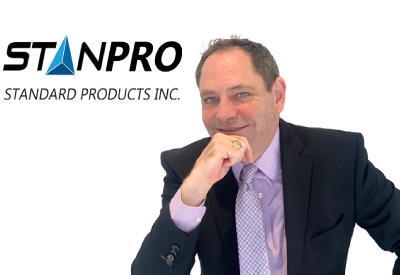 May 5, 2021
A conversation with Jeff Beare, Executive VP of Marketing at Stanpro, on the evolution of emergency lighting.
What was the state of emergency lighting when you first began in the industry?
I began working in Emergency Lighting on February 13, 1995. I remember this date very well because it was the day after my son was born. Emergency lighting hadn't evolved much back then. We were still using 15 W T6.5 lamps as primary lamps in Exits and Sortie signs when AC was present as well as a single 6 W wedge base lamp in the center of the sign in Emergency or DC mode. Photometrics were not used to calculate paths of egress. Instead, we would use a rule of thumb metric. Looking back, people never thought of Emergency Lighting as innovative technology and still don't think that, but in 1995, red LEDs were coming into use for Exit and Sortie signs because of their energy savings and longevity; they were costly, but highly efficient. There are signs in the Viger tunnel in Montréal that are original and still in good working order more than 20 years later.
How would you describe the evolution of emergency lighting to date?
A lot has changed over the years, primarily the adoption of Running Man signs in 2010, as first published in the National Building Code and then adopted by various provincial codes shortly thereafter, as opposed to what had been used for decades, the words Exit and Sortie. Because of this shift, the LEDs used in signs migrated from Red to White because a Running Man sign has a green background with white pictograms as opposed to red when we manufactured Exit and Sortie.
LEDs are now the light source of choice for remote heads because of their high lumen output and low wattage consumption, resulting in longer durations on battery units and reduced capacity sizes. As authorities across Canada have become more aware of life safety in buildings, we are asked more often to provide point-by-point calculations for egress paths, so now IES files housed on our web site have become a necessity. The LED technology of today's lighting fixtures is also allowing us to develop various methods of Emergency Lighting solutions such as our new patent pending LINK. This module basically transforms a normal lighting fixture used as a day-to-day lighting device into an emergency lighting remote in case of a power failure. I could talk more about the LINK, but I suggest you visit the product page or contact your Stanpro sales representative for more details. Lastly, I would add that bringing intelligence to Emergency Lighting is no longer the future, but rather the present. IoT is everywhere, so it only makes sense that life-safety devices are fitted as well.
What is Stanpro's main strength in emergency lighting?
This is the easiest question of all: "Its people". Selling a product is one thing, understanding it is another. From senior management to all levels in between, when it comes to emergency lighting, we are the most knowledgeable company in Canada, bar none! We design, certify, build and sell our products right here in Canada. You will never meet a more passionate bunch. I always say, "If you cut off our arms, we bleed Running Man signs".
What are the most common regulation differences between Canada and the rest of the world in the field of emergency lighting?
Typically, I have often been asked this question. The most common answer to that question is duration. In Canada, the duration of an emergency lighting module runs from a minimum of 30 minutes all the way to 120 minutes, depending on the class of the building, whereas in the US, the standard duration is 90 minutes.
When compared to the rest of the world, I have a fun fact to share. Back in 2010, when running man signs were introduced in Canada, people thought we were going to be like Europe. The irony is that emergency lighting around the world has different versions of signs depending on the country's jurisdiction. So, a running man sign is different in France, Germany, and the UK, etc. In an attempt to standardize this symbol, ISO adopted a Standard for Running Man signs entitled ISO7010 and when Canada adopted the Running Man, we followed the international standard. So, Canada is the first country to have adopted an international standard with respect to Running Man signs.
What is the future of emergency lighting?
For the most part, changes in emergency lighting are dictated by code, so it's difficult to say. If I had a crystal ball and wanted to use a riddle, it would be "The path to enlightenment will be your guide."