Sean Arani — President, Arani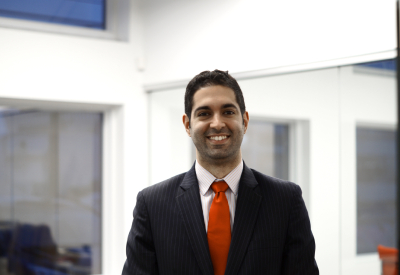 June 9, 2020
Sean Arani is President of Arani, an LED company he founded in 2009 to distribute residential, commercial and industrial LED lighting products across Canada and the U.S. Arani also has an in-house research and development lab, a manufacturing facility and extensive quality control programs, and provides design and consultation services.
We spoke with Sean about how he got his company started, the challenges he faced growing the company, how Arani has responded to the global pandemic, as well as his philosophy as a leader in this industry.
Sean is from Iran and studied electronic engineering in the U.K. before coming to Canada at the age of 21 and starting Arani. LED lighting was beginning to take off and he was intrigued by the potential, coming from an electrical engineering background and as someone interested in sustainable technologies. With financial backing from his family he started Arani, which has become one of Canada's fastest growing companies. Sean noted that he was also able to access funding available at all levels of government to support entrepreneurs and small business. But you have to be proactive in searching out what's available, says Sean.
How the company began
Like many young people coming out of post-secondary schooling, Sean was searching for direction.
"Someone talked to me about LED lighting, at the time in 2009 it was very early days in LED lighting and it seemed interesting because it was right up my alley — I have an environmentalist in me, I care about the environment, but at the same time it seemed like a great business opportunity."
Arani started with imports. "About six years ago we made an investment in a production facility, so we owned part of it. That gave us much more control over the quality of our products and the future of our products in terms of design."
Sean is happy with Arani's success. "Our customers have been loyal to us and we try to support them as much as possible… If a customer has an $80 order or an $8,000 order, we treat them the same. And that seems to have worked for us."
Sean also identified other success factors:
securing major contracts with large companies early on. "That helped us grow, and for the past three years we have been on the list of Canada's fastest growing companies."
hiring the right people. Starting out at a young age, Sean didn't have the business expertise he knew the company would need to succeed. "My background wasn't business, my studies weren't business," he explained. "When we bring a new family member on board — we call our employees family members — I know I have a lot to learn from them. So, I made sure to have a team whose members know very well what they are doing but also who communicate their own challenges. Each one of us can teach the other person," he said.
encouraging continuous improvement and communication. "The flow of information is very open in the company. That way we are able to have a visual of what everyone is going through, what their goals are, and how we can help each other. Making sure we fill the gaps in our knowledge."
allowing everyone to be involved in company processes, ultimately ensuring everyone is pulling in a collective direction. It is important to Sean that everyone feels a sense of ownership, because with that they have a vested interest in contributing to a collective success.
being active in the business community. Sean is a member of the Groupement des chefs d'entreprise du Québec, an association of business owners who meet regularly to share best practices, essentially acting as an advisory board for each member. "That has been very educational for me, being able to have insight into other people's businesses and at the same time being able to share my challenges."
Challenges along the way
"Initially one of our main challenges was inventory management," noted Sean. "Going back four or five years, we either had too much inventory or not enough. That's something we've been able to automate. Our most senior person after me is in charge of operations and inventory, so that has turned into a strength for us. We have direct visibility for our customers, so they can see how much of an item we have in stock and how much we have coming in through our website.
"The other challenge we had was being this unknown, small company competing with some of the bigger brand names in our industry."
That disparity can be intimidating for a small company, which is why they focused on service. Being a small company, customers are able to speak directly with decision-makers. "Giving us the advantage of that view inside the market, but also giving them the involvement in our company's growth and operation.
"When people feel involved with a company, they take ownership and they want to support it."
"This industry, I think, has a chance to generally improve its supplier relations with customers and that's where we are really benefiting — making sure we have that direct customer service and provide quick delivery."
Managing the challenges of COVID-19
"We did a bit of a pivot to supply our customers with PPE, which has helped carry us through this time. Supplying masks, surface disinfectants, hand sanitizers and those types of things."
"That helped us get through and now business is back strong," said Sean, although he noted, "I don't know how much of it is the back-log clearing and how much will stay."
There is uncertainty throughout the industry on exactly how the market will respond. Will business come back strong and maintain that productivity or if there will be fizzle-out period?
"For now we're going to take what there is. It's just hard to plan for the future — I have some customers telling us, 'Yeah, we are quoting like we never have and we are even looking for people,'" he explained. "On the other hand, customers are telling me there is nothing."
Supporting others
"I have had a blessed upbringing. I have two Masters degrees — a Masters in Engineering and an MBA — so education is very important to me and I understand that it has helped me in the growth of our company." He appreciates the impact education can have on your ability to succeed and realizes others may not have been afforded the same opportunities as him.
Consequently, he works with Futurpreneur, an organization that helps entrepreneurs with funding and pairs them with a mentor. He is also involved with Youth Fusion, which works with schools to reduce the drop-out rate. Among its activities the organization brings in young leaders to speak to students, introducing them to career options and demonstrating what can be accomplished with an education.
Arani today
Since 2009, the company has designed, consulted on and supplied thousands of projects across Canada and the United States. Notable projects include the G7 Summit (2019), Crowne Plaza Hotel, ULTRAMAR (300+ Locations), Molson, Groupe Canam (Canada and United States), Rio Tinto, the City of Acton Vale and other municipalities, among many others. Arani is an official supplier to Canadian municipalities such as the City of Montreal, and major construction/property management companies.