Jonathan Perlis — Standard-Stanpro Lighting Systems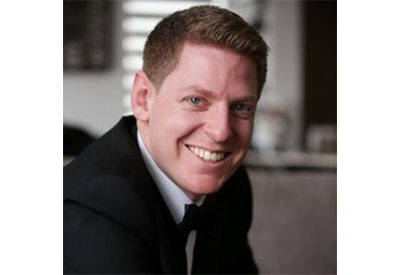 April 22, 2019
Jonathan Perlis was born and raised in Montreal, Quebec. After studying at Concordia University Jonathan was "nudged" to attend a career night event, which got him an interview with Access Lighting. He started with Access Lighting a week later, at the age of 23, and now 10 years into his career he has become a leader for young professionals in the industry.
"Our industry is a bit of a secret society — not intentionally — in that no one really knows it exists. It operates in plain sight," said Perlis, discussing how he initially got into the industry, "it's just not the kind of thing where people grow up saying, 'When I grow up I want to be in lighting.'
"So, everyone always has their funny story of how they got into it. There's often a connection somewhere that's kind of outlandish."
And for Jonathan it was a speed-dating style career night that he really had no interest in attending. However, it landed him a career.
"I was doing a bit of everything," he said of his first position in Customer Service and Project Management with Axis Lighting, where he got a chance to learn from the other more experienced employees working above and alongside him.
"I started on the bottom rung, entering quotes and orders for the more senior guys, asking questions, learning," he said, "and grew with it, to where five and a half years later I was leading a group in Customer Service and Project Management, as well as transitioning into a sales role as a regional sales manager."
By beginning at a more entry level position, Perlis was able to apprentice within the company, learning the requisite skill set to succeed within the organization and broader industry from his more experienced co-workers, until he was able to take on a leadership role himself. Unfortunately, the opportunity was cut short.
Having worked hard to move his way through the ranks of the company into a sales position, Perlis took his time finding the right opportunity, not wanting to take a step back in his career.
Persevering through that adversity afforded him the ability to appreciate the success he has now found in the industry, that much more.
"There's a lot of different moments that stand out where I can't help but sit back and say how happy I am that I went to that speed-dating job career fair 10 years ago now," he said, "even though I was really not interested in doing it, because I didn't think anything would come of it."
After a couple months he accepted a position as a Regional Sales Manager with Universal Lighting, where he worked for one year. Although Perlis said it wasn't the right fit, it is where he initially began working with Electro Federation of Canada (EFC) and was recruited to join a committee for planning EFC's annual golf tournament.
"Along the way, one of the customer [relationships] I had developed and gotten to know well was Standard-Stanpro Lighting," explained Perlis. "An opportunity presented itself to go work with Stanpro, so I did that, and here we are almost three years later."
It was while he was with Standard-Stanpro that he learned of EFC's Young Professionals Network (YPN) program and began attending events with other young professionals working with Standard-Stanpro. "I went to an event, had a great time, really liked what it was about, and just kept going back," he said of his initial involvement.
"Eventually I was asked to sit on the committee," he explained. A few months later he was asked to take over as president, and subsequently was appointed as the Committee Chair for the Quebec Young Professionals Network in November of last year, stepping into the role this January.
"Jonathan has been instrumental in the success of the Young Professionals Network program in Quebec. An integral part of its golf committee, he will continue to contribute to its success moving forward," read the Stanpro press release regarding his appointment.
The YPN assists EFC member company professionals under the age of 40 by fostering professional relationships and promoting knowledge, developing leadership qualities, as well as providing them an opportunity to give back to their community.
It is no secret that replacing the baby boomer generation that has begun retiring, or that is approaching retirement, is a major challenge for the lighting industry and industry in general.
As Perlis explained to Lighting Design & Specification, since the lighting industry can seem a bit like a secret society despite being in plain sight — or more aptly, ensuring things are in plain sight — the lighting industry is often overlooked as a career choice.
"There are not a ton of young people in our industry," said Perlis, "it is a much older — if you look at the average age, it's definitely on the older side — and because we are such a secret it's hard finding young people, and good young people. So, I think the YPN is an amazing initiative."
Perlis added that, "there are a lot of guys, and I stress guys, who are going to be taking their retirement in the next 5-10 years. There's a lot of room, a lot of positions to fill." And with all the new technologies — IoT (Internet of Things) and PoE (Power of Ethernet) — coming into and altering the industry, "it will be up to the younger generation to come in and fill that void and really take it on."
Although technology has already altered the industry considerably, it is still in a transitional phase. And even more important to the prominence of the industry than a successful transition into a new technological era, will be a successful transition into a new generation of workforce. Which is what makes programs like YPN so paramount.
"There's a language, there's a lingo," Perlis noted. "You get these guys that have been around 20, 30, 40 years, they all know each other, you feel a bit like an outsider."
"When you're at a YPN event you are with your peers, whether it be less experience, or not knowing all the terminology, you're with your people."
A major aspect of YPN is for its members to network and learn about the industry and the various companies that operate within it, finding out more about what they do, what spaces they operate in, as well as fostering those relationships into the business relationships that are crucial to both individual and corporate success.
"It gives everyone a place to talk about what they do, and feel that importance."
The committee meets every two months, planning and scheduling events throughout the year. "We make sure they are all coordinated properly, they run smoothly. If an event we've done last year wasn't well received, well attended, or there wasn't the right feedback, we decide as a group how to tweak it, what was wrong with it, what can be improved, or should we scrap it and replace it with something else entirely." Ultimately, to drive attendance and membership at their events in the most productive way possible.
"I don't see being the chair of the committee as having that much more responsibility than anyone else. Everything is always a group decision. It's more just taking a bit of ownership to make sure things get done," Perlis noted.
One of the things they make sure to focus on is ensuring there is an educational element to the events they put on. With all the planning that goes into each event it can be easy to fall into a fun-social-event trap, "which I think is an important aspect of it," Perlis said. They want to ensure people are having fun and making connections, "but we also want to make sure — because we are sponsored, and we do rely on our big member sponsors — we want there to be some kind of outcome that can be applied professionally."
LDS asked Perlis as someone in a leadership role if there were anything he would change about the lighting industry, to which he promptly responded, "Diversity. I would like to see it a lot more diverse."Perlis said they do see it more and more with YPN, at least with the Montreal chapter that he is part of, which is a good sign for the industry moving forward.
"We just want to be very inclusive. We need everybody, I can't stress this enough. We talk about it all the time, especially when we have new faces come in," he said. "We want to have more people come in to get new faces, to have different voices, new perspectives, it can only do us better."
As for his advice to young people coming into the industry: "You want to believe in yourself, which is a lot easier said than done. You've got to learn to trust your instincts. And one of the most valuable pieces of advice that I ever learned was know when to talk and when to listen — you know, eyes open, ears open, mouth shut — because you can learn a lot about people just by listening to them."
Blake Marchand is Assistant Editor, Panel Builder & Systems Integrator.