Chad Mitchell, Lighting the Way at Home and in the Industry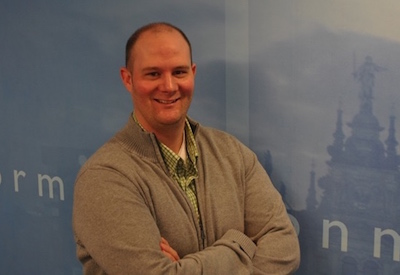 June 11, 2018
Last fall LDS attended the opening of the Philips Lighting Concept Centre, where we were introduced to Chad Mitchell, Director, Marketing — Professional Products & Systems, Philips Lighting Canada. This month LDS had a chance to catch up with Chad to discuss his position in the lighting industry and gain insight on the future of the industry.
Chad is from Acton, Ontario and is proud of his hometown. "It's Worth the Drive to Acton," he notes, recalling a tagline familiar to many Ontarians. Today however he resides in nearby Guelph with his wife Melissa and their four children. For Chad, his hobbies revolve around his children and sports. For him growing up was all about participating and he enjoys passing that on to his children. "I am actively involved with our community and with my children's teams. I coach hockey in the winter and baseball in the summer. I am also the convenor for the Skills Development Hockey Program in Guelph. I also love to golf and swim."
What got you interested in working in the Lighting Industry?
Thirteen years ago, I was approached to come and work in the lighting industry. What drew me to the business is how lighting touches so many people and the science of illumination. At that time, the future possibilities of lighting had me very intrigued and I wanted to be a part of this exciting industry. During the interview process, I was asked to prepare a presentation to a panel of people within the company. So, intrigued by the business and how lighting impacts people's lives, I had researched and completed my presentation on lighting and the aging eye. The human-centric side of lighting is still something that drives me to this day and something I am passionate about — how we can improve and enhance people's lives with lighting.
Tell us a little about your career in the lighting industry.
In 2005 I started as a brand manager for Canlyte and focused on the outdoor, industrial and emergency lighting portfolios of Stonco, Keene-Widelite. A couple of years later I also took on responsibility for the Lightolier brand for Canada. I was responsible for roadmap creation, new product introductions, and overall product marketing plans for the brands I covered.
After four years, I joined the Canlyte Specification Sales Team in Toronto as a way to expand my knowledge and get closer to our customers' needs. I was responsible for calling on key decision-makers and influencers in the lighting industry — electrical engineers, lighting designers, architects and interior designers. This position, which lasted just under two years, gave me a great deal of insight into our industry and the future of lighting.
After Philips' acquisition of Genlyte (Canlyte) I moved back into a marketing role and was responsible for product marketing across our business in Canada. I was also responsible for our category sales team, application support, and application engineering group in Canada. I then spent a couple of years with responsibility for product marketing of our Lightolier brand in North America. In 2017 my focus returned to Canada, with a specific focus on our professional Luminaires business in my current role as Director of Product Marketing. My team of subject matter experts are responsible for product and system roadmaps for the Canadian market, voice of the customer and insight gathering, as well as new product introductions into the market.
From your perspective as Director of Product Marketing, has new technology (LED, specialized lighting) changed the way products are being promoted?
Very much so. Not only promoted but also how we are planning and developing new products as well. The lighting business was not moving as quickly as it is now. We could design and promote fixtures around a "stable" light source in the sense that lamp and ballast envelopes (sizes) were consistent and never changed. With the adoption of LED everything has changed. There is no set industry standard, and as a company we established our own platform standards to help with version changes and improvements with the least amount of disruption to our customers. Products and advancements happen so quickly, we have products that are "future ready" to handle these changes and pass along the most efficient and technologically advanced solutions to our customers. So being able to promote these capabilities is important, as we have done recently with our third generation of the Lightolier Calculite downlights, a concept that our customers will see us build on in 2018. The technology shift has also allowed us to really transition ourselves toward systems. When systems are paired with the right LED solutions, we can save energy and improve the quality of light, as well as deliver value beyond illumination and help improve the lives of customers using our products.
How does Philips' approach to the lighting market differ from other companies?
Our approach is much more holistic. Our vision is "lighting beyond illumination," and we make future-ready luminaires. We are a single source solution provider, the proverbial one stop shop. We provide the widest range of solutions from components, lamps, drivers/ballast, fixture solutions/technology to completely scalable systems that can provide solutions for the smallest retrofit project to large scale construction projects, such as hospitals and high-rise offices. We have even gone beyond that with dynamic city/urban beautification projects like the Brockville Tunnel.

Philips is a big proponent of education and operates a lighting concept centre ("LCC") at its Canadian head office in Markham, Ontario. How important it is for electricians and consumers to be knowledgeable about the lighting they are using?
Our LCC is an important component to making each application successful and ensuring we help deliver on each customer's project vision. We have always understood the importance of lighting education. With our 125-year history in lighting, Philips is a leader in lighting with a deep understanding of the science of illumination.
We have many different audiences that visit the LCC, from college and university students from varied disciplines, to customers, electrical engineers, architects, lighting designers, interior designers and contractors. With the shift to the Internet of Things (IoT), the LCC also hosts people from the IT sector. It is a world-class training facility with programs that go far beyond just our products. It focuses on lighting as a science and art, with an emphasis on the use of good lighting design, light and colour and health and wellbeing.
How is Philips preparing for even newer technology that will change the way we look at lighting in the future (e.g., visual light communication)?
It really goes back to the idea of being "Future Ready" — being prepared for the next big shift, advance or integration of the latest technology and delivering lighting beyond just illumination. The backbone of our systems is very robust, can work with a multitude of technologies and protocols, and is completely scalable to suit the needs of not only today but the advancements of tomorrow. This will also allow our customers to decide how they are going to jump into these new amazing capabilities.
If a customer chooses to jump in with both feet with our latest Power over Ethernet (POE) technology and enable visual light communication, we can do it. If a customer wants to phase it in or design it in for future use, we can provide that as well. Our customers tell us they like the ability to "turn on" features down the road. We have so many amazing capabilities today that would have seemed like science fiction not long ago. Something like visual light communication (VLC), which provides us with the ability to find our way indoors from our smartphone (GPS for indoor spaces), deliver content to the customers of a space (the possibilities are endless from recipes at a grocery store, coupons, discounts or product data). Our VLC technology is so accurate that we can be very specific on what data we are able to send, and to whom. Systems like this can also provide intelligence for building owners on how to optimize their building, how they can reduce their carbon footprint, or help a retailer know where and when they need employees in high traffic areas within their stores. VLC can even make a space more comfortable for the users, giving them independent control of the lighting above and providing them the ability to change the intensity or even the colour of the light to suit them.
In your opinion what will be the next big step in the lighting industry?
I think it is much greater than any one thing. I believe it is the interaction between people and lighting, as well as the art and science of illumination. It touches and influences each of us.
What I am most excited about is how we leverage our lighting knowledge and the science behind human wellness, which truly helps us deliver solutions to improve our lives. Solutions that would help patients heal faster through a deep understanding of circadian rhythm and the healing powers of the right light at the right time. Or helping students stay engaged and influence a positive learning environment at school through light. Intuitive lighting systems can predict our needs or provide us with data to optimize a space, keep us safe and improve our overall comfort through integrated controls.
This truly goes back to how we can improve people's lives, how with smarter systems we are not only pushing instructions out to our lighting but receiving data back to improve the experience on so many levels. We have only started to scratch the surface, but with the advancement of IoT and connected lighting we are building the backbone to deliver all the amazing advancements that will come, and that to me is the most exciting part.
---
Owen Hurst is Managing Editor of LDS' sister publication, Panel Builder & Systems Integrator: http://panelbuildersystemsintegrator.ca