Gordon MacDonald, LED Lighting Retrofit Manager at Rexel's Atlantic Division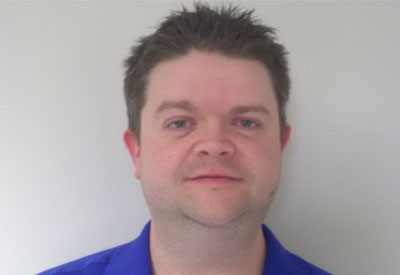 By: Owen Hurst
Gordon MacDonald is a lighting specialist that manages LED retrofit projects in New Brunswick and P.E.I for Rexel Atlantic…
Gordon MacDonald is a cheerful, driven individual that loves to be challenged, a trait that suits him well as a lighting specialist that oversees retrofit projects for Rexel in New Brunswick and P.E.I. He also has had a unique introduction to the field he now works in.
Gordon was born and raised in Moncton, New Brunswick and has lived there for most of his life. He has an incredibly busy home life that extends to his children, stepchildren and grandchildren. Beyond family life he enjoys "playing guitar and piano, going target shooting, cooking BBQ, trying new foods and learning new things."
After several positions, and a back injury, Gordon went back to college, this time taking Electrical Engineering Technology and specialized in Alternative Energy as it seemed to be an important field to become a part of. "I spent a number of years working with wholesalers, agents and contractors, all of which has helped give me a lot of the skills needed to take on the role I am in now, this time in the Electrical/Energy Business" noted Gordon.
I asked him why lighting when there are a number of avenues one could pursue when working with a major electrical wholesaler. He notes that it didn't start out that way, but Gordon is not one to turn from a new challenge. "The position was initially going to encompass multiple energy technologies, but became a lighting specialist role. They asked me if I wanted to learn LED lighting and focus on helping our branches find and manage lighting retrofit opportunities and I said sure, it sounds challenging."
When asked about working for Rexel he was enthusiastic in his response, "The best thing about working for Rexel is that I get to work like I own this business, and get to see customers wherever opportunities exist. I cover 2 whole provinces, so I am never bored and every day is new and fresh. I have the full support of a great team at multiple branches and a management staff that fully supports me in all my business development endeavors and Rexel offers me unlimited training to better myself and offers me every tool necessary to get the job done."
The questioning naturally turned to the future of LED lighting and Gordon provided interesting professional insight into this current hot topic. "I think in the short-term, more and more products will flood the market from China, and the price erosion we are seeing will continue at a rapid pace. Improvements in light efficacy are growing quickly as are the overall range of products that are coming out to replace just about every major type of existing lighting technology. I see more and more businesses investing into their energy infrastructure as economic times worsen, the quickest way to stay alive is to cut expenses.
I see the long-term future as being a totally integrated one where you will have lighting panels that can be used as a light source, emit television images, act as a window on a wall, be used to transmit data on a LiFi network, etc… With smart connected homes and businesses, we will all slowly become part of the internet of energy where all homes and businesses are like an energy IP address being able to send and receive and store energy easily and all devices will eventually become connected to provide complete and total integration of the energy pyramid of Conservation, Efficiency, and Renewable Energy Production. A truly sustainable future is possible and the technology already exists…it's all about time and the will to implement it."
Elaborating on this we talked about the rapid shifts in lighting technology and how it affects wholesalers. "The thing that bothers me about this industry is it sometimes feels like a race to the bottom…in terms of price and profit. We all have to make a living, and with the increasing flood of new products coming from multiple manufacturers, competition is high. LED Lighting technology changes faster than anything else I have every sold, and it seems like every time we buy a new product, it's price drops by 20% with a couple of months because the next best thing is out. Many people are moving to selling purely on price."
One of the obvious factors that Gordon deals with is the balance between a company's energy consumption and cost of doing a full retrofit of their lighting. Many companies recognize their lighting costs are high but don't see the ability in their budget to undertake a costly retrofit, even if the advantages of lower lighting costs will have effect overtime. I asked Gordon about this and he shared a story about an analogous situation and his approach to it.
"I had a customer once tell my colleague that they didn't have the money to retrofit their building with new LED lighting, so they planned on just replacing lamps and ballasts as they burnt out. That was until I went in and did a lighting audit and offered a leasing proposal that in essence took the energy savings from doing the lighting upgrade and put that money on a monthly lease payment which basically got them a free lighting upgrade. We signed the deal in less than a week from the lighting audit. The project was a great success and the building is properly lit now and the workers are much happier under LED light.
I make people realize that they are giving their hard-earned money to the power utilities, when they could be investing in back into their business. Many businesses look at putting aside a Capital Budget to do upgrades and sometimes wait for years before they go ahead, mind you all this time there is a huge cost of waiting. I help them utilize their already funded Operations Budget to finance the project without having to go to the bank for a loan. This can be done with many energy or demand saving technologies like VFD's, Power Factor Correction Systems & LED Lighting."
Gordon is not just focused on LED retrofitting for the benefit of his company, he is seeking an all-around benefit that not only advances Rexel's priorities but focuses on helping local businesses to cost effectively advance as well, Gordon generally enjoys what he does and shows no sign of slowing.
"I never imagined I would be this happy with my life and my career at 42….I love what I do and look forward to getting up every day and going out into the world looking for the next great opportunity. I love being in different places and meeting new people all the time not to mention being challenged by every new project I tackle."