LEDVANCE in Canada — Building on a Legacy of Innovation and the SYLVANIA Brand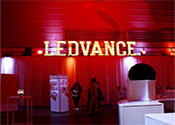 October 11, 2016
Julie Kerr 
LEDVANCE GmbH, a new legally independent lamp manufacturing company born out of the former Osram Lamps business division, aims to bring forward "an almost incomparable depth of experience in terms of light, successful products with strong brands, and high-impact sales team."
With its newly found independence, the company will be able to solidify its position as one of the world's leading lamp manufacturers. They will be flexible enough to adapt and respond to the ever-changing market landscape, while continuing to pursue new business options, such as intelligent, networked products.
The name LEDVANCE holds a significant importance to the company and directly reflects the values and standards that it wishes to uphold as it enters the market. "LED" refers to the core product of the business being "light-emitting diode" (LED) technology, but also signifies the triumph of the product itself in today's market. "ADVANCE" on the other hand, conveys a dedication to forward thinking and a commitment to innovation.
The company will maintain the extensive SYLVANIA product lines, which include incandescent lamps, halogen light sources, fluorescent tubes, and high-pressure discharge lamps, while adding over 200 new LED lamps with innovative technologies in connected lighting solutions, as well as a number of indoor/outdoor industrial and commercial LED lights and panelling with features such as beautiful sleek finishes, lightweight designs, dimming options, and emergency backups.
In the new LEDVANCE in Canada, the company will be able to deliver more quality products to the market more quickly due to their collaborative approach of having quality, R&D, and product development teams all working simultaneously. John Preville, President and CEO of LEDVANCE LTD, cited the new SYLVANIA Contractor Series LED portfolio as an excellent example of how the new companies' efficiencies are delivering: "This robust family of LED lamps and downlight kits delivers quality light for practically any socket at cost effective price points."
In Canada, LEDVANCE will utilize and leverage existing products from SYLVANIA across all categories. The benefit for distributors will be a larger, more diverse product offering, from a brand they know and trust.
Preville comments on the impact the switch will have on Canadian distributors:
"While much remains the same for Canadian electrical distributors, like our commitment to quality and the SYLVANIA brand, I am excited that the new LEDVANCE is transformed for more speed, more products and more success for our Canadian partners. Canada is a primary focus for LEDVANCE. It is a priority for our company. Our dedicated factor- direct national sales organization is being strengthened, and we maintain our manufacturing operation in Quebec. Our 150+ Canadian employees will continue to meet the needs of our customers each and every day."
The company will be opening a new Canadian headquarters in Mississauga, ON that will be a progressive office environment that will mirror their commitment to innovation and the Canadian market.
Looking forward, LEDVANCE is up to the challenge of adapting to the rapidly changing industry landscape, as can be demonstrated by their great emphasis on retrofit solutions, smart lighting, and an increased investment in developing both traditional lighting and LED components with their global reach.
LDS had a first look at some of the specific products at an exclusive media event hosted by LEDVANCE LTD earlier this summer. For photos and more information, click here: http://lighting.electricalindustry.ca/changing-scene/1493-sylvania-celebrates-ledvance-with-launch-party.

As of July 2016, LEDVANCE is active in more than 120 countries and employs approximately 9,000 employees.
Find out more about SYLVANIA products from LEDVANCE here: https://www.sylvania.com
Julie Kerr is Associate Editor / Research Associate, Electrical Market.