Lambert & Fils Studio Officially Launches Laurent Collection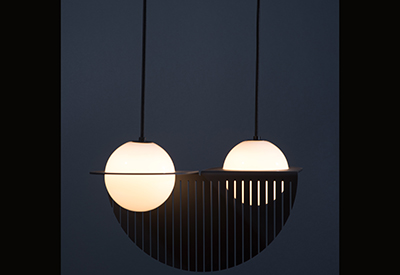 May 07 2016
Established in 2010, as a small storefront workshop in Montreal, Lambert & Fils has evolved from applied designs where the composite parts often dictated the final form to a more conceptual approach. While Bauhaus and Modernism continue to be familiar inspirations for the studio, with Laurent, Lambert & Fils takes a distinctly contemporary tack.
Laurent is a new lighting fixture that combines glass opalescent spheres with bold lines to create a volumetric presence. The studio explored new materials, like chrome and acrylic, to shape this sculptural lighting fixture.
The concept: distilling a globe pendant's duality between sphere and circle to its essence. In keeping with its commitment to working with local, skilled trades, the team called upon the expertise of a Quebec glass blower to craft this latest piece. An adjustable suspension system of wires and anchors allows the pendant's final form to vary, from a pure, minimalist orb to something more intricate and Art Deco. 
"Our research focused on the surface and the form. Here, the globe acts as the link between the two," says Samuel Lambert, the studio's founder and lead designer. The different variations make it an apt lighting fixture for the home as well as for public applications, where Laurent can really take on its fullest dimension through rhythmic repetition.
Lambert & Fils' lighting fixtures already shine in numerous boutiques and restaurants around the world, including the Hotel Bachaumont in Paris. After earning a North-American-wide following, Lambert & Fils lamps now bare the CE marking and are available in Europe too.
Find out more about Lambert & Fils, and Laurent: http://www.lambertetfils.com
Technical sheet
Product Name: Laurent
Designer/Manufacturer: Lambert & Fils Studio
Materials: chrome, acrylic, painted aluminum and brass
Colours: Black or White. Custom colors available upon request 
Dimensions: Each globe is 5.5 inches in diameter. The overall dimensions of the lighting fixture vary depending on its final configuration 
Type: Pendant
Photos: Arseni Khamzin