Interview with Acuity Brands' Audwin Cash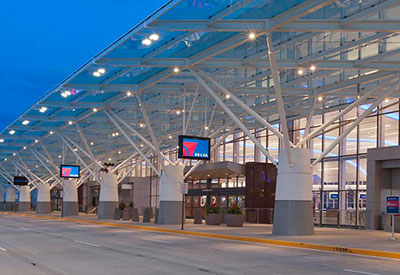 Feb 08 2016
Craig DiLouie
Craig DiLouie, LC recently had the opportunity to interview Audwin Cash, VP Acuity Controls Solutions, Acuity Brands Lighting, Inc. The topic: controlling LED lighting.
How are LED sources different from traditional sources in terms of controllability and behaviour while controlled?
LED sources are the first economically viable solid state light source. LEDs paired with a driver or power supply can be easily turned on and off and dimmed. Given their nature, they save energy linearly with illumination. Paired with digital control systems, LEDs take advantage of daylight harvesting and occupancy control, and personal lighting control more cost effectively than every other source.
What opportunities (and problems) occur as a result of how controllable LED sources are and how they behave while controlled?
By far, the biggest opportunity with controlling LED sources is certainly the additional energy savings and long-life provided by the system. The challenges with LED systems, on the other hand, are control and driver compatibility. Since there is a wide variety of luminaires and control systems, practitioners look for standards-based solutions, but those can be limited or costly. 0-10V is the dominant control methodology. Controller and driver dimming performance also remains problematic, since dimming range, dimming slope and low-end light levels vary based on the performance of the driver and/or controller. Many opt for controls and luminaires from the same manufacturers where possible, or insist on tested, proven pairings to mitigate compatibility risks.
What are the top three technology trends impacting lighting controls for LED sources?
1. The emergence of the Internet of Things — sophisticated control systems are needed to connect and communicate with an array of devices within buildings.
2. Wireless technology — everything is going wireless, and so are lighting controls. Today it is more common to see even the most standard control system operated through phones and tablets.
3. Lighting's impact on health — people are beginning to realize that light can play a role in our health. Controls are used to mimic natural light, which can provide an environment that aids in the healing process.
LED luminaires are more often installed in new construction, where energy codes mandate a broad palette of lighting controls. This means LED sources and more sophisticated control systems are advancing hand in hand.
How has this impacted development of LED products and controls?
It places more emphasis on the components of a lighting system to be interoperable. Complex lighting and control systems must be able to work together. In addition, the integration of controls and networking within a luminaire is becoming increasingly more common because these luminaires allow contractors to install a nearly code-compliant solution simply by energizing a luminaire.
What should specifiers be doing to go beyond code and take advantage of the controllability of LEDs?
Specifiers are already finding new horizons with LED lighting. We are seeing increasing amounts of colour change lighting such as tunable white, RGB and warm dimming being used to enhance spaces. In addition, specifiers are requesting interesting new lighting forms to take advantage of the LED as a solid state and very narrow source. One area we could see improvement is in standardization and specification of visual comfort; we would like to see a reduction in complaints about LED glare.
LED lamps and to an extent luminaires are being retrofitted into existing buildings. Controls, however, are often left out of conventional lighting retrofits.
Has LED penetration into the existing construction market created new opportunities for lighting controls that previously were less available?
In some cases, the introduction of controls within a retrofit luminaire, as a single unit, has increased penetration of controls in retrofits. At the same time, several municipalities have adopted energy codes that mandate the use of controls even when performing traditional energy renovations and retrofits.
A number of luminaire manufacturers now offer integrated control packages. Is this having an appreciable effect on the lighting controls industry, and if so, what is that effect? What is likely in the long term?
Integrated control packages take the guesswork out of installing control systems. Because they are installed at the factory, compatibility is guaranteed and additional onsite installation time is no longer needed, resulting in lower cost. For the controls industry, we are seeing a rapid increase in demand for tools to make programming and networking of these systems easier. As is often the case, once some controllability is added, customers want to take full advantage of their lighting system and need the tools to leverage all the benefits the technology can provide.
LED lighting presents such a small load that the economic argument for lighting controls is more likely to be challenged.
Assuming an LED future, what energy-saving control strategies are considered essential and therefore likely to endure? Will any fall away due to lack of cost-effectiveness?
At this point, the economics of controls from a strictly ROI perspective becomes challenged as LED luminaires increase in efficacy. The use of controls, however, will not likely retreat given that the ultimate goal is to minimize energy use. In the end, luminaire efficacy puts downward pricing pressure on deploying a control system, from first cost to installation, service and maintenance.
With LED, lighting controls can go far beyond energy savings. Lighting controls can respond to individual occupants and completely transform a workspace.
What are these capabilities, and how would you characterize demand for them?
The most common additional control for occupants is full-range dimming. Demand is increasing as the costs for this capability have decreased substantially: many LED luminaires are dimmable by default. Once dimming enters the space, integration with mobile devices to set and recall preferred light levels is then requested.
We are also seeing that designers are incorporating colour-change lighting and controls that allow workers, teachers and healthcare practitioners to select colour and intensity for impact, productivity and enhanced comfort.
Finally, some retailers are using LED lighting to send encoded messages to mobile devices to enhance shopping and navigation within stores with hyper-accurate positioning information. Demand for these advanced capabilities will grow as lighting is used as the platform for the Internet of Things.
If you could tell the entire electrical industry just one thing about controlling LED lighting, what would it be?
In short, the future of lighting is controllable LEDs, and it is in the mainstream now.
---
Craig DiLouie, LC, is Acting Education Director for the Lighting Controls Association. Reprinted with permission of the Lighting Controls Association, www.lightingcontrolsassociation.org