LUMINOTHÉRAPIE, 12TH EDITION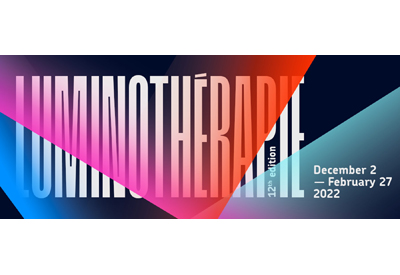 Dec 20, 2021
An interactive, luminous art walk to celebrate the joys of winter in Montreal
The 12th edition of Luminothérapie, the iconic Montreal winter event is now open. Until February 27, 2022, a series of luminous and interactive works will be on display in the heart of the Quartier des Spectacles. Each of the five glittering works offer visitors a distinctive experience.
For the last 12 years, Luminothérapie has brought together a diverse audience to soak up some winter light with digital installations by local creators. As they did during the 2020 edition, visitors will be able to stroll between four different interactive and contemplative works, enjoy a captivating video projection and participate in a festive, upbeat moment of sound and light. Everything will be safe thanks to compliance with current public health regulations. Luminothérapie will take place in the area bounded by Président-Kennedy Ave., Saint-Laurent Blvd., Balmoral St. and Sainte-Catherine St. West; the latter remains closed to vehicle traffic between De Bleury and Saint-Laurent. Luminothérapie is part of an extensive, fun-filled winter program in the Quartier des Spectacles.
"Montreal is known for its lively cultural scene, its joyful spirit and its nordicity, which is celebrated in a beautiful way every year thanks to Luminothérapie. I would like to thank the Quartier des Spectacles Partnership for preparing such a beautiful program, with installations that are definitely worth the trip and high-quality animation," said Valérie Plante, Mayor of Montreal.
"What a joy it is to see the Quartier des Spectacles shine so brightly each year thanks to the hard work of key players in the industry and our exceptionally creative digital artists, with whom we are joining forces to make Montreal's cultural core an essential place to celebrate the joys of winter," said Monique Simard, chair of the board of directors, Quartier des Spectacles Partnership.
THE WONDERS OF A STROLL THROUGH THE QUARTIER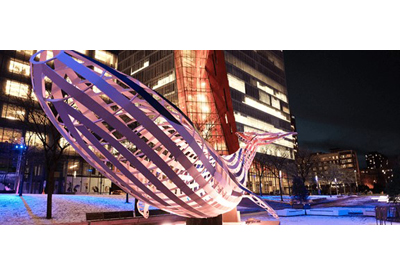 Écho – Le chant de l'inconnu
Credits : Vivien Gaumand
DIRECT NAVIGATION
Luminothérapie invites the public to discover the Canadian premiere of this year's centrepiece work, Echoes – a voice from uncharted waters by Austrian multidisciplinary artist Mathias Gmachl. The work, a majestic five-tonne whale that dominates Place des Festivals, is co-produced in collaboration with MuseumsQuartier in Vienna, Austria, Lugano Arte e Cultura in Lugano, Switzerland. The piece symbolizes the importance of preserving the flora and fauna of our blue planet. Next, look up at the façades of the Wilder Building and UQAM's Pavillon Président-Kennedy to enjoy Nova, a new video projection by Serious Computer Group. The projection, inspired by the motion of water, presents abstract images linked to Montreal's rivers. Continue exploring on the north side of Place des Festivals, where an iconic Luminothérapie work awaits: Impulse by Lateral Office and CS Design in collaboration with EGP Group. Presented several times in the Quartier des Spectacles, the work's large illuminated seesaws invite you to help create a fun, endlessly renewing ephemeral environment. Then, go to the Parterre and abandon yourself to the swaying stems of Entre les rangs. This installation by KANVA Architecture comprises thousands of flexible stems that create a magical immersive setting reminiscent of Quebec's wheat fields. Lastly, make your way to the Place des Arts Esplanade, where the imposing Iceberg by ATOMIC3 and APPAREIL architecture presents a visual and auditory symphony. Co-presented with Place des Arts, the work's tunnel of archways simulates icebergs and their unique sounds.
https://www.quartierdesspectacles.com/en/media/12th-edition-luminotherapie#