Anony Releases Four New Designs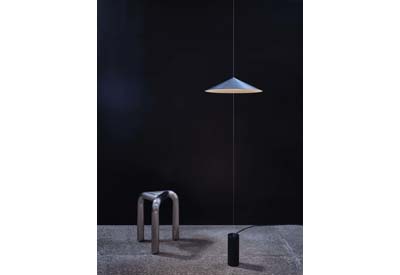 Nov 23, 2021
Wisp. Suspension
Photo credit: Joel Esposito
Two innovative new light fixtures, and their first two designs that aren't lights: stone tableware and a steel stool. Anony officially released four new products at WantedDesign 2021 in New York City on November 14th and 15th, 2021. The four new products show an evolution of their design in new directions: the innovative floating light, Wisp, the playful chandelier, Node, sculptural stoneware collection, Stone, and the Trio stool.
Wisp – Suspension Light
Inverting the idea of a suspended chandelier, Wisp's shade catches light instead of projecting it. A single cable runs from light to ceiling, suspending a captivating shape in mid-air. Touching the light allows you to tune brightness, while sliding the shade controls diffusion.
Materials: Steel, Aluminum, Glass
Node – Pendant, Chandelier
The Node Light uses the language of circles to present a delicate imbalance. A glass sphere traces its perimeter through a steel cylinder, attached at the source of light: an LED, the node. The material contrasts of weight and opacity add to the imbalancing act. Node hangs free as a chandelier, or can be organized as a table light or wall sconce.
Material: Steel, Aluminum, Glass
Objects
Stone and Trio are the first two non-lighting items in Anony's standard collection.
"Lights are sculptural, so it was only a matter of time before Anony expanded beyond illuminating and illuminated objects. The Trio stool and Stone collection showcase our desire to find new perspectives on simple geometry," says Christian Lo.
Stone – Tableware
A square revolved. A bowl and pill represented as stackable geometric vessels. The Stone collection intentionally avoids an obvious form to elude an inherited use of the object. It can be used as a sculpture, holder, or weight.
Material: Travertine or Volcanic Stone
Trio – Stool
A patterned, steel pipe repeated. Three identical pieces are fitted together to create the distinctive triangle shape. Each pipe is carefully machined, bent, and welded.
Material: Steel