Fluxwerx Wins Two Back-to-Back International Design Awards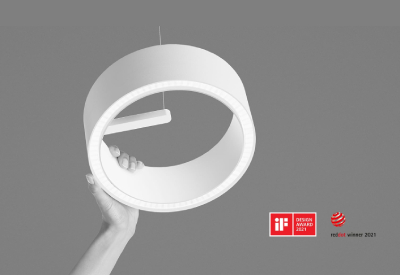 April 21, 2021
The Fluxwerx Portal family of luminaires has been selected as the winner of iF PRODUCT DESIGN and Red Dot Product Design 2021 annual awards, two of the world's most sought-after quality marks for good design. Extensively tested and assessed by juries of international designers from all over the globe, the Portal luminaire family was selected as a winner in the Lighting category for outstanding aesthetics as well as top-class quality of use in the respective competitions.
We have always pushed past convention in our drive to create an optimal balance of innovation, performance and design. The results are breakthrough products that deliver on all levels. It's very rewarding to be recognized with two such prestigious awards.
— Reuben Bartlett, President, Fluxwerx Illumination
Providing an outstanding visual experience, differentiated, evolved design and exceptional performance, Portal won over the juries of both award programs. A reimagination of directional and general area illumination in a single fixture family, Portal offers exceptional comfort and control across multiple architectural environments. Available in two diameters and range of mounting options spanning the discreet, fully Recessed mud-in to a Semi-recessed form, a Surface mount version and even a Pendant, Portal provides clear continuity for any architectural condition and can be used in all ceiling conditions. Multiple optics and beam options transcend typical point source applications with exceptional uniformity, lower energy densities and maximum visual comfort with efficacies up to 150 lm/w.
The winners of the Red Dot Award: Product Design 2021 were particularly impressive this year. It's not easy to prevail in such a strong field of competitors and to win over our jury. The design of the winning products is excellent, in terms of both the aesthetic and the functionality.
— Professor Dr. Peter Zec, founder and CEO of the Red Dot Award
The competition for both awards was intense: in total, 10,000 entries were submitted to iF Design jury while Red Dot Product Design jury reviewed over 18,000 submissions from over 52 countries. The juries scrutinized the products entered in the competitions in a process that spanned several days and were guided by assessment criteria such as the product's formal quality, ergonomics and longevity.