The 2020 IDA Award Recipients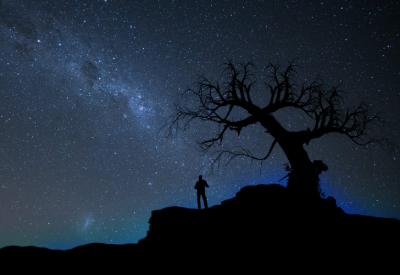 Oct 19, 2020
Each year, the International Dark-Sky Association recognizes and celebrates the incredible achievements of individuals and groups who are committed to our mission to preserve the night. As leaders in their communities, the awardees play a key role in strengthening the global dark sky movement and empowering others to join the fight against light pollution.
This year IDA's Crawford-Hunter Lifetime Achievement Award went to John Hearnshaw of New Zealand.
The Crawford-Hunter Lifetime Achievement Award represents the highest honor that IDA bestows upon individuals who, in the course of their lifetime, have contributed an extraordinary effort to light pollution abatement.
John Hearnshaw FRSNZ, FRASNZ, MNZM (New Zealand)
John Hearnshaw is a New Zealand astronomer and Emeritus Professor of Astronomy at the University of Canterbury, New Zealand. From 1976 to 2008, this 2020 IDA Award Recipient was Director of Mt John Observatory. During this time, he took steps to protect the observatory from encroaching outdoor lighting from the nearby Tekapo Village. Specifically, he lobbied the Mackenzie District Council to include lighting regulations in their District Plan. This goal was achieved in 1981.
In 2010, these regulations were extended to include a large expansion of land inclusive of the town of Twizel. Consequently, this regulation's control of light led to the 2012 designation of the Aoraki Mackenzie International Dark Sky Reserve (AMIDSR). After this success, John formed the AMIDSR Board and was elected Chair, a role he continues to hold to this day. He is the driving force for the board, especially in organizing Starlight Festivals in 2013, 2015, and 2017. Under John's leadership, the AMIDSR was awarded the International Dark-Sky Association Dark Sky Place of the Year 2018.
Then, in 2019, John was the principal organizer of the New Zealand Starlight Conference. This IDA sponsored conference brought together participants from different backgrounds to discuss the inter-related themes of dark-sky protection. These themes include the effects of artificial light at night on star-gazing, the environment, and human health. John is an active member of the International Astronomical Union. He is especially involved with education, outreach, and protection of the night sky. Additionally, he is a member of IUCN Dark Sky Advisory Group. Further, John is the National Focal Point for New Zealand in the UNESCO Astronomy and World Heritage Initiative.
Go HERE for the full list of award recipients