Industry Leaders Chart Path Forward for the Future of Lighting at LRC Annual Conference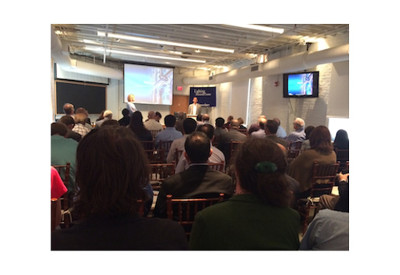 September 20, 2018
The lighting industry continues to be in a state of rapid transformation. New technologies and new business models are forcing the industry to rethink what it means to be a lighting company in the 21st century. To understand and address this issue, the Lighting Research Center (LRC) at Rensselaer Polytechnic Institute brought together leaders from the lighting industry, policy makers, and business development experts for its annual Partner's event on September 5-6, 2018 in Troy, New York.
More than 100 participants attended the two-day conference, which is a private event for LRC Partners and Alliance members. This year's event featured an impressive line-up of speakers and two panel sessions.
Decision sciences expert, renowned author, and entrepreneur Paul Schoemaker inspired the audience with his keynote, "Taking Stock of Where We Are to Create the Future." One of the themes of the talk was the importance of collective leadership for industry survival in this time of widespread turbulence, which is only going to intensify. He explained the traps and biases that vulnerable industries typically fall victim and suggested practical remedies based on best practices from companies who successfully adapted.
Dr. Schoemaker also participated in the business experts panel, which focused on the future of lighting and industry stewardship in this time of change. Panelists also included Lori Brock, Head of Innovation Americas at OSRAM; Priscilla Richards, Program Manager at NYSERDA; Mark Lien, Industry Relations Manager at the IES; and Randy Reid, President of LumEfficient and Editor of the EdisonReport. The panel was moderated by Govi Rao, President & CEO of Noveda Technologies.
Several recurring themes emerged during the panel and during the event overall from the speakers and active participation from an engaged audience. First and foremost was the recognition that now is the time for the lighting industry to join together to deal with the turbulence ahead. Mark Lien noted "divided we fall…" during the panel, further stating that the industry should come together in particular to educate the public on the value of light, another key theme of the event.
Priscilla Richards said the "lighting industry must find a way to make light more compelling to consumers so they understand its value." Lori Brock said that the lighting industry needs to get better at moving fast to take advantage of IoT and other emerging technologies such as machine learning, noting that "lighting is the Trojan Horse of the IoT."
Paul Schoemaker said that the lighting industry must invest in developing people and capabilities, as opposed to physical infrastructure, because "who knows what the future holds." He drew a parallel to how parents should educate their children, stating that it is better to teach a child to be adaptable with a growth mindset and master essential lifelong learning skills, than to teach rote memorization and a narrow, fixed mindset. "Are we developing reconvertible, reconfigurable skills and capabilities?" he asked. Schoemaker also noted that peripheral vision or "seeing at the edges" is key.