Signify Interact Hospitality: Never Fumble for a Hotel Light Switch Again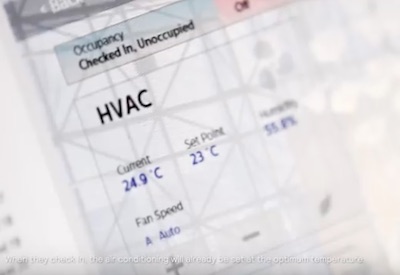 September 10, 2018
The smart hotel of the future has moved a step closer with the launch of Interact Hospitality from Signify. The hotel room management system enables guests to alter lighting, temperature and make room service requests at the touch of a button. This smart system also lets hotel staff know if a room is occupied and helps them respond more quickly to guest requests, providing useful information to improve the guest experience, optimize operations and save energy. The first commercial implementation of this smart system takes place at the 1,261-room Swissôtel The Stamford in Singapore.
Interact Hospitality also benefits hotel managers. By integrating lighting, sensors, HVAC and Property Management Systems, Interact Hospitality allows managers to monitor their entire property via a single dashboard.
The system's open Application Program Interface (API) enables its connection to a variety of hotel systems, so that real-time information can be fed into everything from housekeeping to engineering systems, helping to make hotel operations more efficient.
One of the key operational benefits of Interact Hospitality is energy savings. In hot climates especially, HVAC can consume more than half of a hotel's energy use. By using data from occupancy sensors located in guest rooms and information from Property Management systems, Interact Hospitality can automatically turn down systems – including HVAC and lighting — when rooms are unoccupied. This allows managers to reduce electricity bills while ensuring rooms match guest preferences.
Katya Herting, Hotel Manager of Swissôtel The Stamford, says, "As a hotel catering for the next generation, we're constantly looking for ways to improve how we manage our hotels and deliver new value for our guests. This new system helps us to improve levels of service even further and gives our managers a 360° overview of our operations across the entire hotel. This technology is helping us to eliminate unnecessary work for our staff while enabling them to service guest requests in record time.
"The system reinforces our brand commitment to keep innovating so that we create outstanding guest experiences and overall a better quality of life using seamless and intuitive technology. It has certainly raised the bar for the hospitality industry."
Jella Segers, Global Lead Interact Hospitality at Signify, says, "With Interact Hospitality, we offer a fully-integrated smart room system that helps a hotel improve its operational efficiency while enhancing the guest experience. For example, we know that around 35% of hotel guests leave a light on in the bathroom during the night to orientate themselves when waking up in a new environment. This may affect sleep quality and prevent deep sleep. With our new room management system, low level night lights come on automatically when a person steps out of bed, so as not to wake them fully or disturb others in the room."
Segers continues: "In addition, hotel guests can now change the lighting easily at the touch of a button on the control panel, selecting pre-defined settings for example, when reading, working or to relax and unwind in their room."
Find out more: www.interact-lighting.com/global/what-is-possible/interact-hospitality