Signify and BRAC Light the Lives of 46,000 Rohingya Families in Bangladesh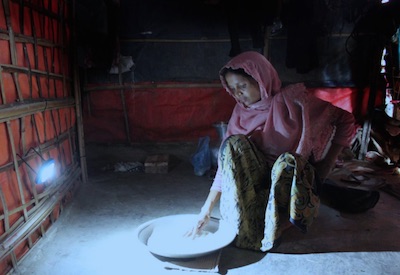 August 17, 2018
Signify and BRAC, one of the world's leading non-governmental organizations, are distributing Philips LifeLight solar lanterns to more than 46,000 Rohingya families in Bangladesh. The solar lanterns will significantly improve the living conditions in the refugees' makeshift shelters, and especially improve the safety and security of women and children at night. So far, they have distributed solar lanterns for 22,495 Rohingya families, reaching 132,720 people, of which 66,360 are children.
"Lighting is a key enabler to create safer spaces," said Prajna Khanna, Director of the Signify Foundation. "Especially in refugee camps where women and children are vulnerable to exploitation and abuse, lighting can make a real difference. Our continued collaboration with BRAC leverages the strengths and resources of both organizations to deliver interventions like these."
Previously the camps have been pitch black at night, making basic activities almost impossible. On top of that there were immediate concerns about the safety and security of women and children, in their shelters, moving around the camps and going to the toilet at night. The shelters desperately needed lighting to increase security and support their basic needs.
BRAC will distribute the solar lamps through its network of offices, seed and agricultural staff and community health workers. It will provide detailed training on care and maintenance and how to get replacements under warranty. Each lamp will be accompanied by an instruction and information sheet in the Rakhine language and script. BRAC will also work with local solar companies and local companies in the Cox's Bazar area to install and maintain the LifeLight Home systems. These companies will be trained on the specific Philips-branded products and will provide technical support.
Since August 2017, 680,000 forcibly-displaced Rohingya people have been sheltering in makeshift settlements across Cox's Bazar in Bangladesh. The new arrivals are vulnerable, and include pregnant and nursing mothers, and children separated from their families. Existing basic services for refugees and host communities have been overwhelmed due to the sudden and massive increase in population. BRAC was one of the earliest responders on the ground, working together with the Government of Bangladesh, the International Organization for Migration, UNHCR and other stakeholders.