1,500 LED-lit Pigeons Fly over London in Art Display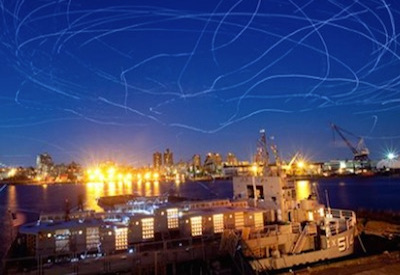 July 10, 2018
During the London International Festival of Theatre (Lift) last month, 1,500 LED-lit pigeons soared into the skies above the River Thames in a glorious spectacle of unprecedented scale and beauty. The 40-minute event was in homage to 100,000 pigeons that carried messages on behalf of the British during the First World War.
During the war, pigeons carried messages from ship to shore, from the battlefield to command post, and from pilots to forces on the ground. Some 95% of messages arrived safely, changing the course of battles and saving dozens of lives.
The artist Duke Riley collaborated with a design and technology firm to create special, lightweight, pigeon leg bands that contain a tiny, remote-controlled LED light. The lights were specially designed for Fly By Night and they used exactly the same design as normal leg bands worn by all domesticated birds; simply with the addition of a tiny LED light. The total weight of the band is only around 6 grams.
Find out more: www.liftfestival.com/events/flybynight.