The Bibliothèque du Boisé Receives OAQ's 2015 Grand Prix d'excellence of OAQ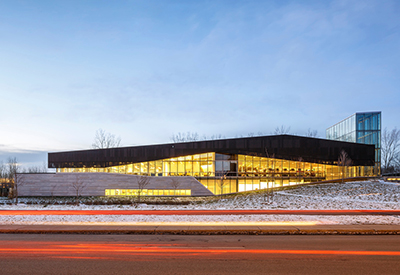 Jan 11 2016
The Ordre des architectes du Québec (OAQ) has bestowed its highest award on Montreal's Bibliothèque du Boisé, designed by the consortium Eric Pelletier, Cardinal Hardy — two firms that joined Lemay in 2013 and 2014 respectively — and Labonté Marcil architects.
"This is a very successful project that includes indoor and outdoor public spaces," says the jury. "Far for being a simple assemblage, every space and every square meter is beautiful, from volume to perspectives, from ceiling details to materials and furniture. Tremendous work has been performed to translate this excellence inside out. The building is uniquely built into the site it takes to grips with the landscape. His sculptural silhouette is elegant, thanks to its wave wood."
The 5,000 m² Bibliothèque du Boisé aims to become a place fostering a feeling of belonging, promoting exploration and discovery. It is integrated into the site by drawing on its major elements. The architecture changes shape, unfolds, spreads out and rises up, reducing the boundaries between the built space and the site. There are several means of access to the building – all of which encourage interaction and discovery. Therefore, the library is not an architectural gesture, but rather an act of communication and exchange. It gives to the collectivity the opportunity to get together and know each other.
The $20 million library has also won the following awards:
• Award of Excellence, Canadian Architect magazine (2010)
• Steel Design Award of Excellence, category Commercial – Institutional Projects, Canadian Institute of Steel Construction (2013)
• Steel Design Award of Excellence, category Jury Favorite Project, Canadian Institute of Steel Construction (2013)
• Steel Design Award of Excellence, category Green Building, Canadian Institute of Steel Construction (2013)
• Project of the Year Award, PMI-Montréal élixir Gala (2013)
• Finalist, Excellence Award, category People's Choice , Centre d'expertise sur la construction commerciale en bois (2014)
• Canadian Green Building Award , Canada Green Building Council (2014)
• Award for Project Excellence, Project Management Institute (PMI) (2014)
• International VMZinc Award, category Sustainable Building, VMZINC (2014)
• Certification LEED-NC 1.0 – Platinum, Canada Green Building Council (2015)
• Best of Canada, category Institutional, Canadian Interiors (2015)