Luminothérapie Competition: Call for Proposals to Enhance Public Spaces in Montreal's Quartier des Spectacles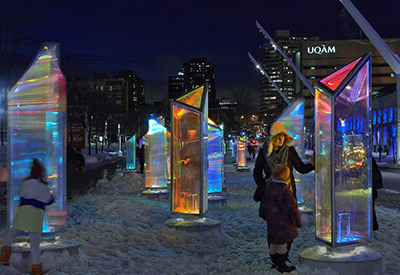 {loadposition slideShow3}Photos by: Cindy Boyce
May 1, 2015 is the proposal deadline for Luminothérapie, Quebec's largest competition for temporary works. The purpose of the multidisciplinary competition is to present a unique winter experience in the Quartier des Spectacles and to stimulate creativity in the design of works for public spaces. The 6th edition of Luminothérapie will run from December 10, 2015 to January 31, 2016.
This year, a single call for proposals has been issued for both the creation of a primary participatory work for the Place des Festivals and architectural video projections for nine building façades in the Quartier. Creators from all backgrounds are invited to propose an original project for presentation in the Quartier des Spectacles.The free competition is Canada-wide and open to all teams whose lead designer is based in Canada.
The concept 
Proposed works must be inspired by winter and be site-specific:
• the work for the Place des Festivals must focus on light and sound, give visitors a daytime and nighttime experience, be mean¬ingful and encourage people of all ages to participate
• the video projections for the nine building façades in the Quartier must be accompanied by an original soundtrack and comple¬ment the primary work in the Place des Festivals by enhancing its narrative themes
The video projections will be shown at the Quartier's permanent projection sites for digital art: 
• Grande Bibliothèque (Bibliothèque et Archives nationales du Québec)
• UQAM bell tower
• tCentre de design at UQAM
• Cégep du Vieux Montréal
• ThéâtreMaisonneuve; UQAM's President Kennedy building
• Hôtel Zéro1 on Place de la Paix
• the wall outside Saint-Laurent metro station
• Place Dupuis, adjacent to Place Émilie-Gamelin
To promote the emergence of new cultural and artistic practices, the organizers strongly encourage the formation of multidisci¬plinary teams. The jury will favour projects that combine different perspectives by bringing together design and performing, visual or media arts.
The total production budget is $300,000.
The registration form, rules and evaluation criteria for the competition can be found at www.mtlunescodesign.com/en/project/2015-edition-Participatory-installation-and-video-projections.