Designing & Deploying Budget Friendly, Code Compliant Lighting Controls Webinar Recap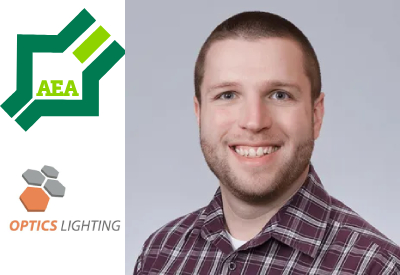 Dec 4, 2020
By Blake Marchand
Dave Hiemstra (CLCP, CTR) is the Controls Group Manager with Optics Lighting, he presented on Designing & Deploying Budget Friendly, Code Compliant Lighting Controls as part of the Alberta Electrical Alliance Electrical Learning Expo.
"We have moved into a world of budget cuts – more than ever before we're seeing value engineering on projects, we're seeing budgets latched, everyone's doing the bare minimum, at this point, on what needs to be done," he explained at the top of his presentation, which ultimately puts the focus on being budget friendly when designing lighting control.
"What we have seen in the last 6-months or so, is that designs have slipped back to more traditional, analog, simplified lighting control designs and deployments. This is not such a bad thing, analog has its place, but what we're finding is an assumption that analog is always cheaper. That's not always the case. There's a lot of ways we can continue to deploy effective controls that meet code, that are still budget friendly, but don't handcuff clients down the road."
Although, budgets are tight now as a result of the global pandemic, that won't always be the case. Optics Lighting has done a number of designs during the pandemic, but realizing this budget pinch won't last forever, they still want to include a future proofing element, so clients aren't handcuffed down the road.
Generally, Hiemstra noted, he tries to go with one product line/manufacturer if he can. When it comes to the space itself, he will break the project down room by room, deploying different strategies in different rooms. While aiming for the most cost-effective solution that meets code requirements, as well as customer requirements that go beyond the code.
Before getting into specifics he outlined six core lighting control strategies:
Occupancy Control, based on movement or noise in the space, "this is the best bang for your buck when you're doing controls."
Time Scheduling, On/Off, dimming, after hours occupancy control. "We've started to use 'smart' time scheduling, where we use the system components in different ways. Let's say for an open office space, we want the lighting to come on any time after 7am, but not necessarily always at 7am. We can set it so they have occupancy sensors in the space," Hiemstra explained that, beyond the time scheduled hours, after 5pm when the office is closed for example, occupancy sensors can take control. "So, we're using a couple different strategies. This used to be a complicated, sometimes costly sequence of operations to follow, but now costs have come down so dramatically, that kind of deployment is actually fairly simple to do. And it gives the client a lot of flexibility and really the best energy efficiency they're going to get."
Task Tuning, setting maximum and minimum outputs. "This is something that is available on just about every type of system," he commented. "Even an analog dimmer has a trim setting, we can start effecting the output. Generally, with LED, when we dim, it's a one for one ratio. So, if we dim it down by 10%, we use about 10% less energy with the lighting. This gives us an extra little umph in terms of our energy savings."
Hiemstra added that when the LEDs start losing some of their brightness, it gives the option to brighten them, "Some fancier systems do this automatically… but we're talking about budget friendly controls, so this would be a manual process."
Daylight Harvesting, adjusting light levels based on natural light in the space. "I know full well that not everyone likes to do this, and it's often the first thing turned off by the end user after the first year. Typically because the sensor isn't in the right location, or more likely because the sensor hasn't been configured properly."
Hiemstra added that, "We do have daylight harvesting in our energy code (NEC 2017), so we need to find cost effective ways to do this, and in a way that we don't have the problem of poor configuration."
"I always say with daylight harvesting, If you notice that it's working, it's not working."
Although, as Hiemstra noted, not a lot of designers like to work with this strategy, it's something that is here to stay, energy code-wise, and will likely be used more and more in the future.
Personal Control, any manual control given to the occupant. This is something that Optics Lighting moved away from for open office spaces, but they are beginning to factor it in again. Again, referencing the energy code, Hiemstra said it gives end users the option for more energy savings.
Variable Load Shedding, reducing lighting loads based on pre-set maximum energy limits. "This comes out of California title 24, we typically don't do a lot of it here. "The utility or the building itself, can set a maximum threshold for power usage."
When a building is about to reach its maximum load threshold, "a lighting controls systems can start taking down lighting and reduce the electrical load."
"We use it in carbon neutral and net-zero buildings. Those are spaces where power is essential, and it is rationed carefully. We need to know how much power we're using, and we need to have the ability to drop that usage if we need to."
Variable load shedding is not something that will generally factor into budget friendly controls, Hiemstra commented, "but we can put in infrastructure at this time with budget friendly controls that down the line has the ability for it, if we need to future proof."
Hiemstra also touched on the NEC 2017 requirements, noting that manual control is a major requirement. "The idea here is that we need to have some flexibility, the ability for someone to do something with that systems outside of the normal automated responses. Generally, what the codes have found is the more ability we give someone to interact with their system, the more energy savings we tend to get."
"We also have this requirement where we are restricted to either manual on/full on or restricted to partial/auto on. This means when I walk into a space, the lights can't come on automatically, or if they do, only 50% of that load can come on."
By-Level Control ties into partial/auto on, "We need to be able to reduce the light level in a space by between 30% and 70%. This is so that, again, we give people the ability to reduce the light levels."
In a small, very basic office, we have an occupancy sensor, switch, and dimmer, combined and connected to our load. In small offices, this is complete code compliance."
This is the most cost-effective way to do code compliant lighting controls, Hiemstra commented. Although, he added that its only effective in small spaces where the sensor coverage is adequate. "Stretching that range is risky. When looking at the range of an occupancy sensor, make sure to check the specification sheets, if you're in the last 10% of the overage range," Hiemstra said, it is good practice to add a ceiling sensor and wall switch in that case.
For the same type of office, he added, "If we we're looking at the more costly way of doing it, we would look at A/B switching, so we would have two relays, one for A one for B, we would have two switches – still a single component. But it's a little more onerous on the installation side, not a lot of people want to go this route."
For larger spaces… Hiemstra said he sees that a lot of people will double up their relays, so they'll have all the components required by the code but they won't be configured properly so the system actually negates the NEC 2017.
"The proper way to approach this from an analog perspective, is through low-voltage and power pack. This way we have an input from the occupancy sensor and our switch. That power pack is our single relay, now I don't have multiple relays downstream of one another."
"This is how we have to approach it with the traditional analog gear. There are more efficient ways to handle this with newer technologies."
Hiemstra used a medium sized office to provide an example…
A lot of manufacturers make an affordable, small power pack with wireless capabilities, "Something that has the wireless communication, has the ability to tether, so we're not putting batteries in occupancy censors where they're likely to fail. We're still running the 0-10-volt wire, but often times this little power pack will have an isolated 0-10 so you can run it in the same conduit of VX."
The analog system will be around $290 and this wireless component increase that by about $80.
With this set up, "what we got is inherently digital components," he noted, "this allows us to future proof the system."
"Down the road is that client needs more functionality out of their system or they want to set scenes, or if they want to maximize their energy savings, we have a lot of options that we don't have with analog."
The last option is a built-in sensor for every fixture, which Hiemstra said he's on the fence about, "Some applications this makes a lot of sense, and for some its overkill."
Two to three sensors, that option makes a lot of sense for Hiemstra, the added cost for the fixture has come down enough (depending on the manufacturer) where it makes sense cost-wise because the system is much easier to set up. As well as having a future proof component.
Run power to the fixtures, bind the sensos to the wireless switch, "and away we go."
But this set up in an open office where there are more fixtures is not realistic from a budget-friendly perspective.
Hiemstra also breaks down more complicated spaces like classrooms and boardrooms…
With these types of projects there are often requirements from the client that go beyond what the code requires.
"In a boardroom we only have to do dimming, we have to do vacancy/occupancy sensing and have manual control. But a client is probably doing to want scene control, multiple zones in the space so they can turn down just the board lighting."
Digital room-based system is an option that he recommends here.
"The idea of a digital room based system is that we have a brain (a digital/smart power pack that all the devices feed into) in the middle of that, we have loads with power and dimming coming out to them, we have field devices with data going back into it."
"This is everything in the room. Just because I say digital doesn't mean we have to network. This is intended to be a stand alone entity. Because of the intelligence that can be put into that controller, we can meet all the requirements of the energy code, but we can do scenes, we have bunch of different switch options to do scenes and settings, you can do your daylight harvesting, and in a lot of cases boardrooms are where that's happening. And then you can add as many occupancy or vacancy sensors as you want."
Hiemstra noted that wireless is becoming more cost effective, so the field devices can be done wirelessly. But argued that its only necessary when you're working in a space where you don't want to disturb the ceiling or you're trying to do a minimal impact renovation.