Transforming the Electrical Industry in a New Digital Age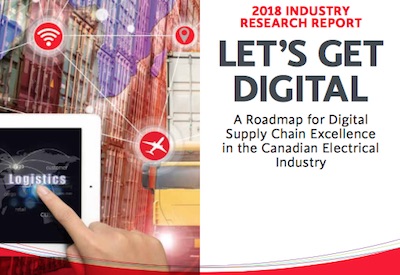 July 6, 2018
Digitalization is set to take a strong hold of all business models, transforming how companies access, monitor, engage with and service customers. Today's customers are not passive consumers; they rely on real-time digital access to information to make purchasing decisions. Businesses must consider how to apply digital technologies and digitized data to connect with customers to help reshape their paths to purchase. This digital lens provides improvements to business functions, operations and overall processes by creating stronger insight and knowledge so businesses can take action.
The path towards digitalization has put the electrical supply channel at an important crossroad: the entire electrical value chain (suppliers, manufacturers, distributors, customers) will need to strongly consider how to move from a traditional model that has served the market well for decades, towards a new model that is connected, smart and highly efficient. But how does the industry evolve from a traditional model to an integrated ecosystem?
The goods news is that digitization is somewhat familiar territory for the electrical industry. The industry has made great strides in the digitization of electrical products. Intelligent products such as lighting, controls, sensors and breakers are increasingly connected with Cloud-based systems and IoT platforms to provide users with new levels of data access, control, flexibility and application. The use of digitally astute electrical products support the automation of robotics, artificial intelligence, blockchain and autonomous vehicles other cross-functional operations, transforming how companies design, manufacture, distribute, deliver, install and service to meet customers' needs.
"Let's Get Digital" research
Electro-Federation Canada (EFC) has conducted a research study that looks at the value-add of digitalization in the Canadian electrical industry, specifically as it relates to supply chain networks. The resulting report emphasizes the service factor. Digitalization offers an opportunity for the electrical channel to advance its service abilities by embracing new technologies that digitize processes so that we can access, engage, customize, connect and collaborate with customers and other value chain partners.
In EFC's study, 75% of survey respondents recognized service as a key driver for digital transformation. Service is widely understood as our channel's main strength: the personal connections that we have with customers are very important. These relationships have allowed us to work with customers to identify business opportunities, build strategies and provide services that cannot be matched by new market players.
But a word of caution: these connections run the risk of becoming weakened if we don't address changing customer needs, which are being fuelled by B2C digital experiences that are forcing B2B practices to evolve. The prowess of digitalization has the potential to render legacy services obsolete. Sensors, robotics, artificial intelligence, blockchain, autonomous vehicles, and other technologies will alter how operational functions are performed and serviced.
The threat of digital inaction could have huge consequences. In recent years, digitally native competitors have surfaced with a keen eye towards the wholesale distribution market. The Globe and Mail published an article that noted that "Amazon's interest in the B2B wholesale and distribution market is said to stem from the inefficiencies that exist within the space. Amazon Business is purpose-built to address the concerns of B2B purchasers and professional procurement teams concurrently." (Source: www.theglobeandmail.com/report-on-business/rob-commentary/amazons-next-mountain-b2b-procurement/article37519274/).
Digital transformation among electrical channel partners must happen now: "The race to digitalization is no longer coming, it's already here. There is no longer time to delay in implementing strategies and executing tactical plans…there is still a general feeling in our industry that we have time. We don't." (EFC member survey respondent)
Our industry's goal must be to collectively transform the electrical supply chain into one that is more agile, transparent and robust. Explore these another opportunities in EFC's "Digitalization" research report, and learn what our channel and your business will need to consider for digitalization to gain adoption. Request your copy at www.electrofed.com/market-insights/industry-research.
Rob Nadler is Executive Vice President at Stanpro Lighting Systems Inc. and Aimlite. Swati Patel is EFC's Director, Research & Communications.