EFC Announces the Launch of its New Brand Identity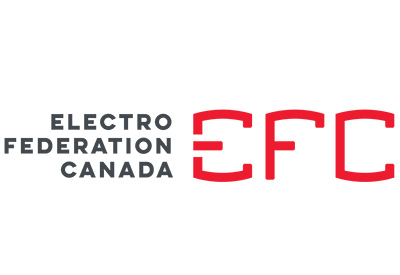 June 4, 2018
Electro-Federation Canada (EFC) announced the launch of its new brand identity last Wednesday at its annual conference in Vancouver, BC. This rebrand is part of EFC's strategy to prepare the association for the future so that it remains in step with the changing dynamics of the Canadian electrical market.
"This change marks a strategic pivot in our future direction," said Carol McGlogan, President & CEO, EFC. "Our industry is on the verge of big changes and our new brand identity reflects the advancing market. Our products have become an important backbone for developments in Intelligent Buildings, Smart Homes, Industrial Automation, Electrification, Digitalization and other key areas. It's an exciting time to be part of this industry – and our new brand position and marketing initiatives will seal the appeal!"
As part of this launch, EFC has introduced a new logo, updated the vision and mission statements to better reflect EFC's value proposition to members, and created new collateral – such as our new weekly newsletter – to augment the change. Over the next few weeks, EFC will roll-out a number of other tools, including a fully-bilingual Website with enhanced functionality and an industry video that profiles industry innovation. ​​​
Click here to download EFC's new logo assets
Display the logo on your corporate website using the "Proud Member" graphic (available in English and French). Direct the online graphic to the EFC website: www.electrofed.com – new site launching soon!