Acclaim Lighting Amplifies and Accents John Hextall Bridge Giving it New Life
June 5, 2023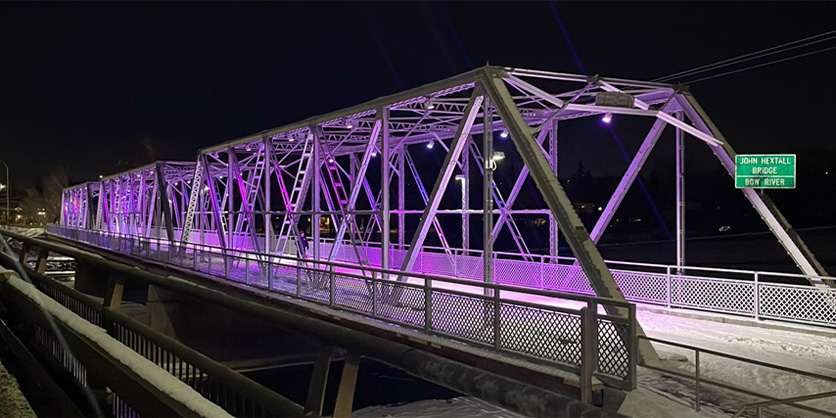 A new lighting system is bringing back the vibrancy and safety to the newly renovated John Hextall Bridge in Calgary, Alberta, Canada. Distinguished by its unique framework of steel structural members, the Shouldice, or John Hextall Bridge is a notable as an uncommon surviving bridge built by the Algoma Steel Bridge Company, according to Historic Bridges.
Connecting the pedestrian pathway between the neighborhoods of Bowness and Montgomery, the three-span, 39.5 meter long by 8.5 meter wide with a 7.8 meters tall truss bridge was due for redevelopment. The bridge needed a new concrete deck, repairs to the bridge structure, recoating the trusses and new lighting. The John Hextall bridge had traditional light poles that were mounted to the deck, and photocell powered fluorescent fixtures to provide simple illumination during the evening when the bridge was converted to a pedestrian crossing.
With most of the existing lighting no longer operational and consisting of multiple separate systems, the John Hextall Bridge was in need of a totally new lighting system to highlight the aesthetics of the rehabilitated structure.
Acclaim Lighting
To upgrade the lighting system, the City of Calgary wanted the new lighting system to accent the John Hextall Bridge, provide safety, deter vandalism, and offer the versatility to change lighting scenes.  The team, involving Associated Engineering, O2 Planning + Design, PCL Construction, Delphi Electric, and WOW Lighting & Controls, determined that the general illumination using white light could be primarily achieved with wall packs to highlight the length of John Hextall bridge and allow safe passage for pedestrians, while minimizing glare for pedestrians and nearby residences. 
General lighting was changed from 2 x 32-watt fluorescent lamp-based technology to overhead LED wall packs with a type III distribution. The wall packs direct light more efficiently and enables a reduction power consumption by 40 watts per fixture. To reduce vandalism and improve durability, fixtures were required to be installed at high mount points.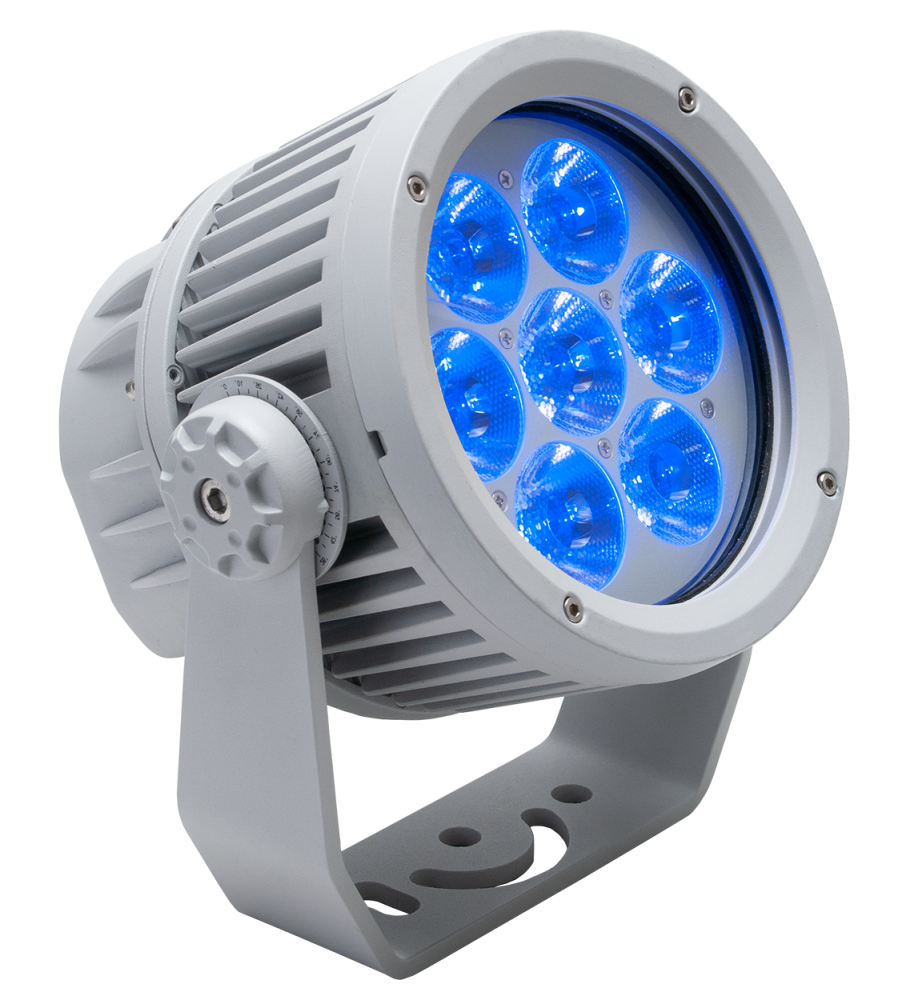 The City of Calgary also wanted to Incorporate RGBW fixtures to enable for colorful programmed scenes and light displays to commemorate calendar events, themes, and causes.
After completing their due diligence, the team selected products from Acclaim Lighting, based on their proven record of supplying large scale, dynamic architectural exterior lighting projects. The team specified Dyna Drum EO, Aria, and Pharos based on the John Hextall bridge's Pratt Truss. With its elliptical optic capabilities, Dyna Drum EO highlighted the trusses across the bridge, mounted on the exterior of the bridge truss.
Dyna Drum EO Color is a high output, outdoor rated, quad-color LED floodlight. It features an internal 100-277VAC power supply and onboard DMX+RDM driver. Each unit carries Acclaim's Aria wireless DMX technology inside. The fixture comes with a narrow 10º beam standard, with optional quick-change spread lenses for wider applications.
The utilization of the wireless Aria DMX dimming allowed the reduction of wiring required for installation and helped the contractor, as power was already provided to locations where old fixtures were mounted. The Aria Wireless DMX system is a compact, local, outdoor rated wireless DMX system. Its transceiver can act as either the sending or receiving point, with up to 15 channels on the 2.4 GHz band.
The internal wireless radio features both automatic networking and signal routing optimization to ensure the best possible reception of DMX data. A 5dB, omni-directional antenna is included, which provides transmission up to 2600' line of sight and 300' between obstructions. Both Aria and Dyna Drum EO are rated for operation down to -40°C/F, which is critical for projects in many areas of Canada where temperatures can quickly get very cold.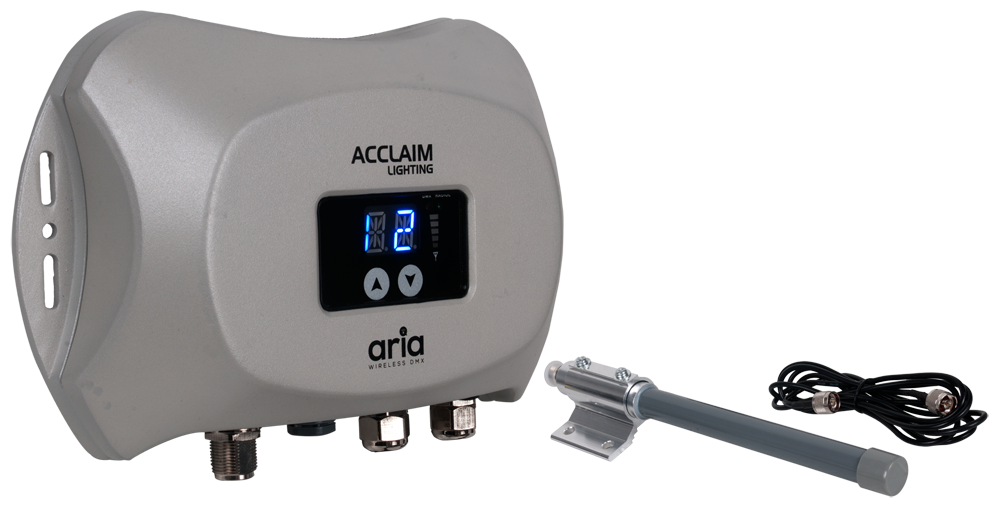 Supporting Dyna Drum EO and Aria, Pharos offers full flexibility to build dynamic, precise pre-programmed lighting displays, with the freedom of real-time manual overrides and flexible-zone control, adding the ability to integrate with other systems.
Celebrating Holidays and More with Lighting
"The new lighting involved updating dated traditional sources to new LED technology, increasing the overall output as well as providing RGBW capabilities," said Carson Keen, principal at WOW Lighting. "This lighting gives the city of Calgary the ability to have programmed scenes and light displays to commemorate calendar events, themes and causes, creating a showcase along the Bow River."

Carson Keen, principal at WOW Lighting
Juan Hurtado, one of the lighting controls commissioners at WOW Lighting added, "We have highlighted Winter with a dynamic show of blues, greens, and purples. Spring transitions into greens, pinks, and yellows. Summer flows with blues, reds, and greens. And, we close out the year with reds, oranges, and yellows of Fall.

Throughout the year, the lighting system incorporates a number of holidays and celebrations such as Saint Patrick's Day, Pride, Truth and Reconciliation, Trans Day of Visibility, and Canada Day amongst others. We celebrate the holidays with a chase of red and green, finishing off New Year's with a show of evocative fireworks, which everyone enjoys."

Juan Hurtado, one of the lighting controls commissioners at WOW Lighting