Introducing LED-integrated Wine Rack System from MP Lighting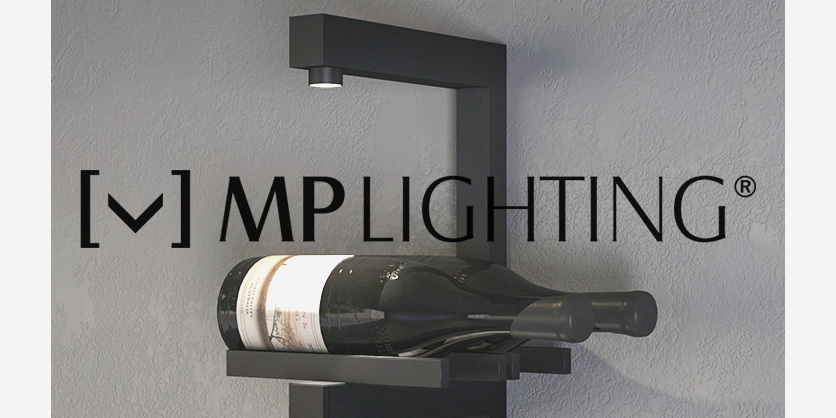 March 23, 2023
Wine enthusiasts, sommeliers, and casual appreciators alike can all agree: wine is delicate. The naturally occurring chemicals in the wine can be disturbed by many environmental factors, mainly heat, lighting, and vibrations. To aid in the prevention of these factors spoiling the wine, wine racks can be installed. LED-integrated wine rack systems have a light source already attached to the arms and rails that hold the bottles for clearer illumination. Wine rack systems are a great way of providing stability when storing or displaying bottles, and the LED integration provides independent lighting for the wine bottles being displayed.
MP Lighting's LED-integrated wine rack system fixtures were designed with modernity in mind. The sleek rails and arms can support up to 4 bottles of wine and have a 1W or 2W LED on each arm to provide low-heat illumination – as not to cause the wine to become heat-stricken.
Both the L182 and the L183 models are customizable to fit any project's needs, boasting 6 different arm options, 5 different colour temperature options, 2 elegant finishes in black anodized and bronze powder coated, and 2 anti-glare shroud accessories, the LED-integrated systems are a great option for a variety of commercial and hospitality uses.
For a better experience specifying the systems, MP Lighting offers a specification guide that helps in guiding the process. There's a 3-step specification process for the L182 and L183 fixtures, the first is mounting & rail, the second is arms, and the third is the accompanying driver.
Mounting & Rail System
This is where the biggest differences between the L182 and L183 fixtures are apparent. The L182 rail is 1" in width, while the L183 rail is a bit thicker, around 2-3/4" in width. While the L182 can be wall-mounted or floor-to-ceiling mounted, the L183 can only be floor-to-ceiling mounted. However, the L183 can also be made as a double-sided fixture, as the thicker rail is able to hold arms on 2 sides of its rail. The rails also have customizable height and can range from 1ft up to 8ft for L182 and 12ft for L183.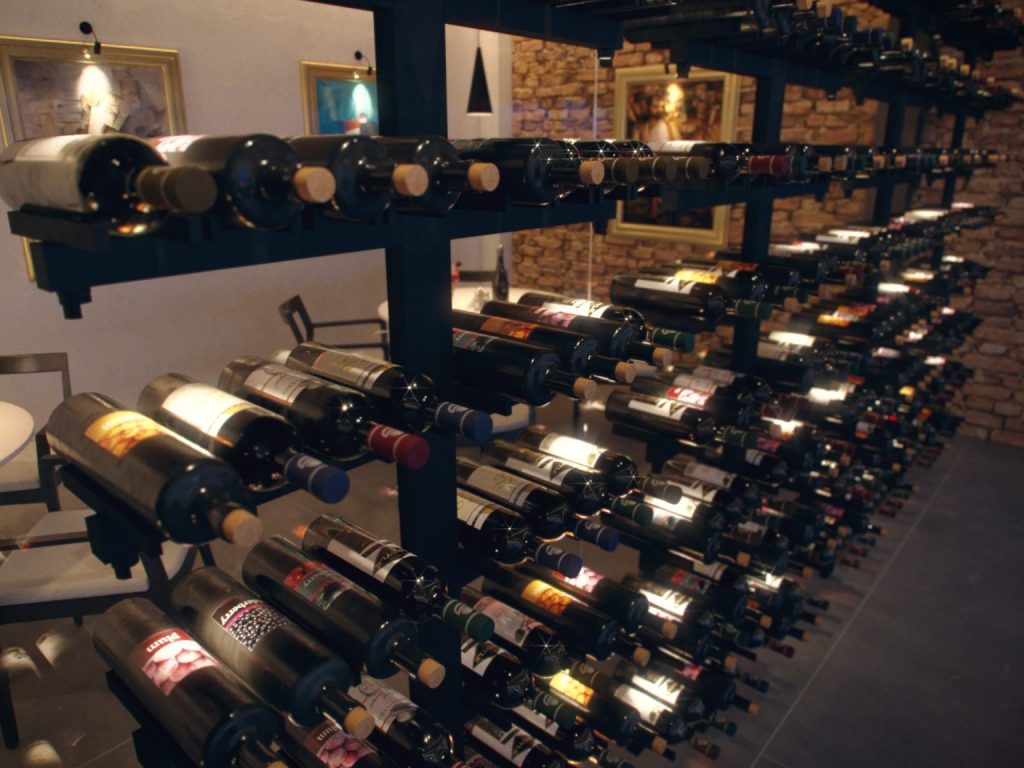 Arms
There are 6 cross arms available for the LED-integrated fixtures. The first 2 options are 1A and 2A, which hold 1 and 2 bottles, respectively and lay parallel to the arms' position, displaying the bottle's cork and neck. Options 1B, 2B, and 4B hold 1, 2, and 4 bottles, respectively and lay across the arm with the label facing forward to showcase them; The last cross-arm option – 1V – holds 1 bottle of any size (including magnum champagne, ice wine bottles) vertically, this is a great option to showcase a favourite bottle.
The number of arms included in one rail is customizable, it requires one top arm and one bottom arm, but the middle arms can vary in number as the spacing between them is customizable. Typically, the spacing between arms is from 9″ to 12," but it depends from cross arm to cross arm.­­­­­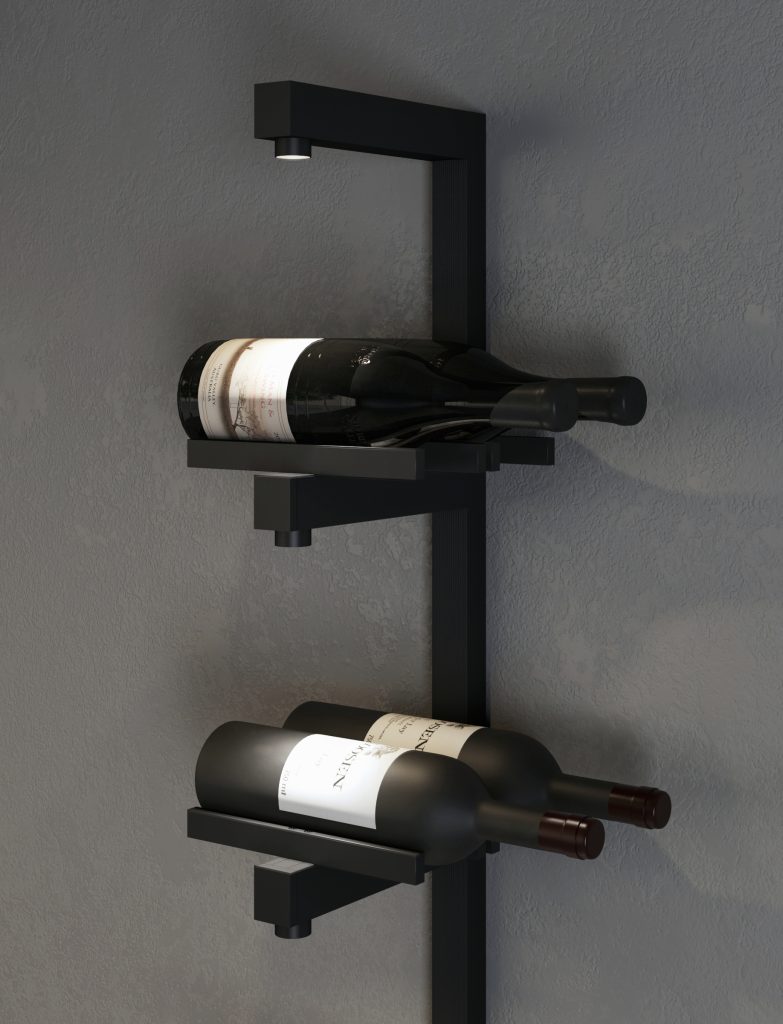 Driver
There are 4 driver options for the L182 and L183 fixtures; they're all dimmable (either ELV or 0-10 dimming) and are dependent on the wattage selected and the number of arms within the rail. 1 driver per rail is recommended.
FAQ
What are the anti-glare accessories?
The anti-glare accessories are the half and full shrouds that can be attached to the LED light on the arms. The shrouds are a barrier against the immediate light to protect your eyes from uncomfortable glare.
What are the 6 cross arms?
The 6 cross arms, or bottle holders, are:
1A (single bottle, neck view) and 2A (double bottle, neck view) – best for thinner setups;
1B (single bottle, label view), 2B (double bottle, label view) – best for displaying labels;
1V (single bottle, vertical view) – best for displaying a favourite bottle;
4B (quadruple bottle, label view)– best for a big collection with limited space.
Can the wine rack systems be kept in a refrigerated display?
They absolutely can. When requesting a system, ask for MP Lighting's special coating, it protects the integrated LED lights from water damage, sea salt damage, and more.
Does the system have any impact on the wine's quality?
No. The LEDs produce minimal heat to preserve the wine quality.
Is it possible to use different arm types on one support rail?
Yes, due to the highly customizable nature of the wine rack fixtures, projects that require a variety of arm types in one rail is possible.
LED-integrated wine rack systems can be very versatile and used for multiple different projects. Their customizable nature makes them a great and modern lighting solution for all wine lovers, professional and casual. In addition, their sleek design and focused light make them a great addition to any restaurant, bar, lounge, or cellar.
More information available Here