Liteline Announces Expansion to Millwork Product Family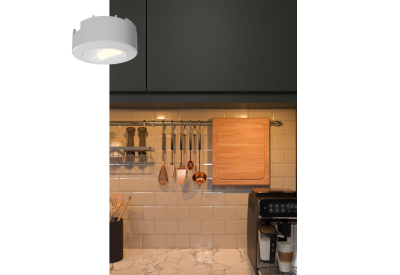 August 2, 2022
Liteline's Millwork product family is expanding. Elevate your undercabinet and millwork fixtures with the new first to market Moon Puck & the new CCT selectable LEDbar. Both new fixtures are great for accent or task lighting in the kitchen.
Moon Puck
Highlight your backsplash or accent artwork setback in a shelf with Liteline's new Moon Puck. This is the first millwork fixture to offer a true wall wash without compromising the distribution of the beam spread. Moon Puck uses wall wash optics to alter the angular distribution of the 60° beam spread to offer a true wall wash. With an output of 210 lumens, you can link up to 12 pucks per run on one driver. These dimmable fixtures are offered in 30K and are capable of being recessed or surface mounted. Choose between white, black, or bronze trims to match any space.
LEDbar – Color Selectable
Liteline has upgraded the LEDbar that you know and love by adding a color selectable switch! This allows you to select the color temperature between 27 K, 30 K, 35 K, 40 K, & 50 K, as well as control the on/off switch directly on the fixture itself. Plus, there's no compromise of lumens with the CCT switch! Available in 5 lengths including: 14", 23", 34", 46", and 58", this 90+ CRI dimmable, fixture is linkable with up to 10+ fixtures up to 300W.
Coming Soon!
Go HERE for more information