Eureka Introduces Billie Large-Scale Luminaire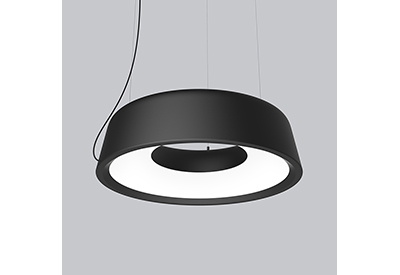 January 10, 2022
Eureka announced the release of its Billie large-scale architectural luminaire. With its distinctive hollow center, Billie matches contemporary design with functionality to deliver illumination for a variety of contemporary and modern environments such as offices or educational settings.
The internal geometry of the luminaire, including the top radius, is optimized to improve the light spread inside the shape. And a return around the bottom edge acts as a reflector, casting shadow-free light evenly onto the curved interior surface. As a result, Billie creates comfortable illumination for occupants below, regardless of mounting height.
Billie luminaires are available in 24″, 36″, or 48″ diameters to scale an aesthetic from room to room. The larger volume creates a statement; by contrast, the unexpectedly hollow interior of the spun aluminum shade contributes to the intimacy of a space. While all shades are matte white on the inside, designers can choose a lightly textured black or white finish for the exterior. RAL colors are also available.
A side-entry power cord contributes to Billie's distinct look. Positioned in an elegant curve with strategically placed cable routing clips, it connects directly to the LEDs without disrupting the inner lit areas.
Billie is offered with fully dimmable low, regular, or high output. The luminaire delivers a range from 1,214 to 10,508 lumens, dependent on the size and output selected. An optically clear lens protects the light source from dust and facilitates cleaning.
All sizes of Billie can be selected with tunable white and are compatible with the nLight® AIR or nLight® Wired network control system. These systems manage lighting throughout indoor spaces, helping to reduce energy costs and improve occupant comfort.
Go HERE for more information