M18™ Utility Remote Control Search Light Spots Lines, Floods Fields and Goes Anywhere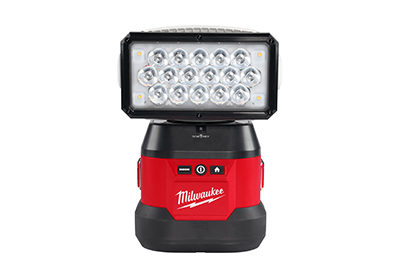 Nov 23, 2021
Milwaukee Tool continues to deliver unprecedented productivity enhancements for linemen with M18™ Utility Remote Control Search Light. With versatility for the Power Utility professional in mind, the light can be operated while mounted to a bucket truck or can be attached to the M18™ portable base to light areas where trucks cannot access. In addition, this product comes equipped with a wireless joystick remote to give linemen complete control over the light's positioning and has the ability to switch from spot mode for patrolling and tracking lines, to flood mode for larger applications.
"Flood and spot lights are essential for Linemen to work during a storm and for routine maintenance, but most lights on the market today only have one of these functions- forcing a trade-off for the user," said Jason Isaacs, Group Product Manager for Milwaukee Tool. "Dedicated to delivering innovation to Lineman so they can be more productive, we are excited to provide a durable option that has the versatility to spot lines, flood fields, and literally go anywhere!" 
 Spot mode produces up to 1,250 yards of beam distance and offers 3.5 hours of runtime when mounted to the M18™ base to spot small connections on poles at night. When the job moves into groundwork applications such as trench work or working on pad mount transformers. The flood mode provides 4,250 lumens of visibility over a larger area- operating for 3.5 hours on high and up to 12 hours on low.
 For maximum durability, the M18™ Utility Remote Control Search Light is IP56 rated and built with an impact and weather-resistant lens. The weather-resistant technology is set up to adapt, perform, and survive all-season outdoor use.
 Focused on the user and investing in game-changing technology, Milwaukee continues to design and develop lighting solutions with the ability to adapt, perform and survive the demands of professional use. When attached to the M18 portable base or on the 12V DC Permanent Truck Mount the light has ONE-KEY™ capabilities for tracking. In addition to being ONE-KEY™ compatible, the new M18™ Utility Remote Control Search Light is fully compatible with the entire M18™ line, now offering more than 200 power tool solutions.
Specifications
M18™ Utility Remote Control Search Light Kit (2123- 21HD)
Lumens Output:
Flood High – 4,250 Lumens

Flood Low – 1,500 Lumens

Spot – 3,500 Lumens
Run-time
Flood Low – 12 Hours

Spot – 3.5 Hours
Power Source: M18™
Ingress Rating: IP56 (waterproof and dust proof)
5 – Year Tool Warranty
ONE-KEY™ Compatible
Go HERE for more information