Metalumen Arches Pendant Series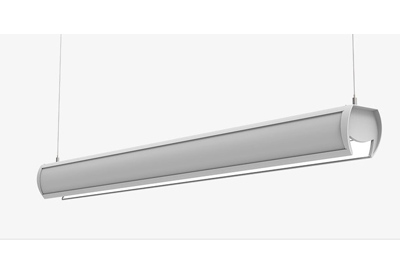 Aug 13, 2021
A well balanced and proportionate arch provides a distinct shape that creates architectural and visual interest in many different applications. Channels on each side of the fixture allow for printed decals or wayfinding – perfect for labeling areas of your floorplan.
Features:
• 3000, 3500, 4000K
• 4', 8' and 12' lengths as well as continuous rows
The ARCHES are linear LED luminaires engineered for supreme functionality, high efficacy and leading-edge design. They are completely designed optically and aesthetically with innovation and accuracy in mind. The carefully constructed interior curved reflector allows the lightbeam to continuously bounce creating a smooth, consistent glow with wide Bat-wing distribution, all the while completely concealing the LED array for excellent glare-free brightness control.
The exterior floating profile follows a well-balanced and proportionate arch that outlines the features for great modularity and in-field customization. The architectural look coupled with a sleek end-cap design complements the form factor and portrays a very narrow body as a narrower profile. The simplicity in look and function is maximized in the complexity of its careful design. These open cavity luminaires look astonishing in any office environment, library, retail space, classroom or health facility. The A4 Series available in pendant direct, pendant direct/indirect and surface mounting with symmetric distribution for ideal performance in any application.
Go HERE for more information.