Lithonia Lighting's Radean Series Designed for Pedestrian-Friendly Spaces and Urban Environments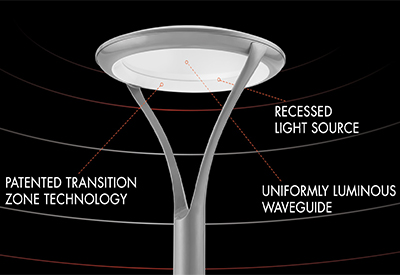 Sept 4, 2019
Sculpture by day – beacon of comfort by night, the RADEAN family brings an elegant sense of style to any outdoor pedestrian space.
The patented transition zone provides an intermediary luminous surface between the brighter waveguide and the dark night sky which drastically reduces the perception of glare and provides a softer appearance to the light source.
Pedestrian-friendly environments demand a unique set of criteria that differs from other outdoor spaces. Driven by lower pole heights, most luminaires fail to provide the visual comfort that people seek. Using cutting-edge lighting technology and a revolutionary new optical ink, the RADEAN waveguide provides smooth, uniform lighting from a surprisingly soft light source.
Architecturally-inspired shapes embody the grace and strength of the RADEAN family in the cornerstone Post Top luminaire. The twin copper-core cast aluminum arms support the slender superstructure creating a beautiful sculpture by day which transforms into a beacon of comfort by night. Triangular arms redirect reflections maintaining its visually quiet appearance.
The RADEAN is available in a Post Top, Arm Mount, and Bollard.
Go HERE for more information