Karice Infinity Wall Sconce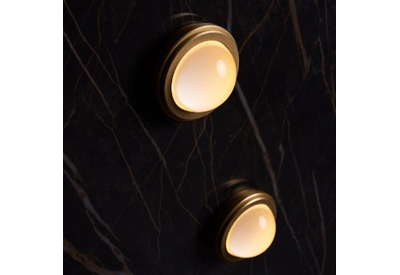 Nov 19, 2020
The wall sconce design was inspired by the Infinity Modern Pendant. This version is wall mountable. This is a variation on the infinity design. The light is made using anodized aluminum and glass domes used to magnify the illumination within. The light source is invisible, but glimpses of the light are captured as the light rotates from side to side.
Wall Sconce Design
This lighting series has clean classic lines, perfect for any decor.
The lighting design is classical simplicity. Install a multitude of fixtures to create your imagined dreams.
This lighting collection is perfect for the contemporary home or any other decor.
The lighting design is a collaboration between head designer Maurice Laurent Dery and Jordan Dery. A creative collaboration was made with the two parties when photographing the light.
As with all Karice products, all lights are handcrafted in their facility in South Surrey.
The Infinity Wall Sconce design is available as pendant or wall sconce. This is an expansion of new designs planned for the expanded collection for 2020.
Go HERE for more information.