New Shapes for Shell Luminaires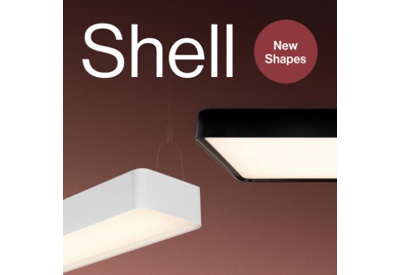 Nov 3, 2020
Lumenwerx is proud to announce that its Shell line has grown into a larger and more diverse family of sophisticated luminaires. Formerly composed of round fixtures only, the new Shell family now includes square and linear members, each in multiple sizes to better address a broad range of designs. The complete Shell lineup also includes a subtle uplight glow option, multiple mounting choices, and nine standard finish colors.
The Shell family is among the best when it comes to offering visual comfort. Inviting but not overbearing, classic but not cliché, Shell lighting is the result of its quality optic. Made of thermoformed diffusing acrylic, our HLO (High-Efficiency Lambertian Optic) provides excellent light source obscuration while offering an impressive 0.1 inch of shielding. Plus, every Shell fixture, regardless of shape, emits identical luminous intensity values, precisely measured down to the square inch with UP (Unity Pointed) technology.
With Shell design simplicity meets refined details of the highest caliber, resulting in a lighting family that is elegant, exceptionally versatile, and timeless.
Go HERE for more information.