Acuity Brands Introduces the New Silhouette Family of Decorative Luminaires from Winona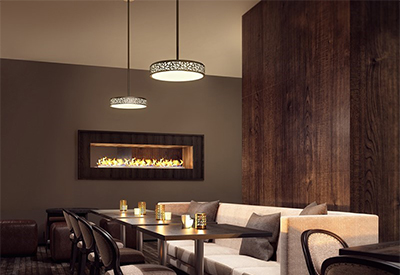 Sept 24, 2019
Acuity Brands introduced the Silhouette family of decorative luminaires from Winona featuring embedded advanced dimming and controls options for use in classroom, commercial and hospitality applications.
The Silhouette family includes thin-profile drum luminaires with companion wall sconces and pendants available in a full range of lumen outputs, sizes, patterns and finishes to help create a subtle accent or a dramatic statement in interior spaces. Lumen output is specifiable within a wide range, independently, between direct and indirect distributions. Combined with high-performance indirect batwing distribution, this allows luminaires to be spaced further apart while maintaining uniformly lit surfaces and allowing for less luminaires to be used.
"Architects and designers are now expecting more than just aesthetics from their decorative lighting," said Cleveland Blankenship, Business Unit Lead with Acuity Brands Lighting. "We recognized the need for decorative luminaires to provide enhanced dimming and networked, digital controls as well as the ability to deliver superior optical performance and uniform lighting distribution."
The eldoLED driver from Acuity Brands provides a dual-circuit option for Silhouette luminaires that allows independent control of direct and indirect illumination to create different mood settings in the space. Also, the driver helps deliver a smooth, flicker-free deep dimming experience. Both tunable white and warm dimming options are available.
nLight wired or wireless lighting control systems can be specified with any of the Silhouette luminaires. The nLight wired control system is easy to install and use, while helping to manage efficient energy usage. The system can scale from one room to an entire campus. nLight AIR is a simplified wireless lighting control solution that can be used for renovation projects. The Silhouette luminaires are embedded with a smart sensor that can communicate wirelessly with battery-powered nLight AIR wall switches.
Go HERE for more information