New Essentia by Cree LED Downlight Portfolio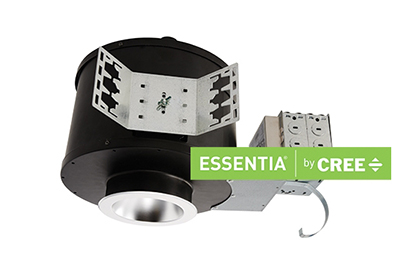 May 08 2016
The Essentia by Cree downlight portfolio offers complete solutions in a variety of configurations, including downlights, wall washers and adjustable accents with exceptional quality and lighting performance from Cree. The product line is optimized for commercial and new construction applications.
"The Essentia® by Cree portfolio continues to expand choices for essential lighting applications, giving you more power to choose wisely and a greater ability to customize and control your ROI," said David Elien, Cree senior vice president, lighting. "The new downlight portfolio offers a wide array of choices that provides enhanced lighting experiences with trusted quality."
Essentia by Cree downlights are engineered for efficiency and high-quality design, delivering exceptional color rendering at 90 CRI in a variety of color temperatures, including 2700K, 3000K, 3500K and 4000K. The comprehensive portfolio delivers efficacy up to 93 LPW and is available in a range of 4", 6" and 8" round apertures with out-of-the box dimming capabilities to one percent and universal voltage.
The complete portfolio of matched and complementary downlights ensures uniform light quality, performance and consistent appearance across entire lighting projects, making it easy to use Cree.  The line features semi-specular reflector finishes and multiple reflector color options, with designs and colors that complement the look and feel of other Cree®products. Essentia by Cree downlights feature a 50,000 hour rated lifetime.
The new Essentia by Cree downlight portfolio will be showcased by Cree at booth #2637 during LIGHTFAIR International in San Diego from April 26-28 and will be available to ship late spring.