Amerlux Velato LED Reveals Concealed Beams of Light Defined by Your Imagination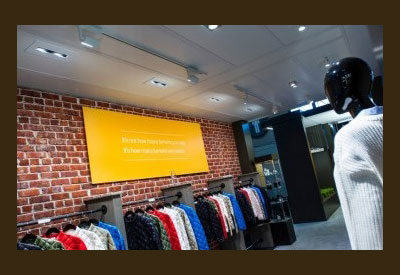 Feb 22 2016
Amerlux's architecturally minimalistic yet versatile Velato LED family of HHP Recessed Adjustable Multiples fixtures are available in one, two and three light configurations for accent and display lighting in retail, commercial and hospitality environments. Velato is offered in both trimless and trimmed styles. The new Velato is a super-flexible, minimalistic concealed ceiling light with a quasi-custom vibe.
Velato Hornet High Power (HHP) Recessed Slot Adjustable Trimless and Trimmed Multiples are offered in 16 and 18 watt models in one-, two- and three-light configurations. Constructed with a stamped steel-mounting frame with integral mounting bars and a steel plaster frame, the fixtures are thermally protected with a steel driver housing. The fixtures feature an extruded aluminum upper housing with knife-edge and mitred welded corners and complete die cast optical head construction without exposed wiring.
Luminaires offer a 30-degree vertical tilt and 360-degree rotation with availability of a variety of beam spreads including spot, narrow flood, medium flood, flood, wide flood, very wide flood, and linear spread. Colour temperatures consist of 2200K, 2700K, 3000K, 3500K and 4000K, with a CRI of up to 97 in three temperatures. All are offered with 50,000 hours of rated life at 70% light output.
Electronic constant current LED drivers are used for 0-10V dimming on 120-277 volt systems. Velato dims down to less than 5% and is compatible with most dimming protocols, wall box ELV dimmers, and central control systems.
The faceplate finish is matte white standard. Velato can be mounted in sheet rock ceilings with a maximum thickness of one inch.
Find out more: http://www.amerlux.com/.
>> Source ALL of your Canadian Electrical products in the Goldbook Directory <<